This post was written by Registered Dietitian, Mae Santos.
I'm Mae, a Registered Dietitian and a Master's student working in food allergy research. Moreover, I am a Filipino-Canadian who moved to Winnipeg (right in the middle of Canada) at the age of 11 and I'd also like to think of myself as a home cook.
Growing up, I didn't appreciate Filipino food and its intricacies but now that I'm a bit more mature #adulting, I'm starting to learn, appreciate, and hone my traditional cooking skills. My other love, aside from cooking, is feeding others—especially babies! While I don't have babies myself (yet), I am passionate about infant nutrition!
Fun fact: locally, I work for Healthy Start. A really neat pregnancy, and parent & baby community program! And my masters program involves a lot of pediatric work!
Food Culture is Important
"Western" practices of baby feeding don't often discuss culture foods or offer "different" or "exotic" ingredients. I've learned that many parents are also misinformed and told that babies should only have bland foods to start. Nope, not true!
While it may be more convenient to rely on easily available Western dishes and ingredients when starting to feed your baby, it's also important that culture be introduced in what is possibly the best (and tastiest) way – through food! Of course, only if it's important to YOU.
Growing up, Filipino food is something I always had and is central to some of my favorite childhood memories. In sharing this guide, I hope you and your families find the same joy in cooking and sharing the food and Filipino heritage to your babies.
Common Filipino Ingredients
While Filipino dishes do not rely as heavily on spices, there are three main items used in the bulk of cooking that provides plenty of flavour to various commonly eaten dishes: garlic, onions, and ginger.
One tip to remember is that while you may have your own way of cooking your favorite dishes, you may need to modify your recipe for a baby a wee bit.
You want to offer your baby dishes with no salt, or other forms of sodium like:
toyo/ soy sauce (even low sodium ones)
patis/ fish sauce
bagoong/ fermented shrimp paste
tausi/ fermented black bean paste (plain canned black beans are fine)
Many "convenient" Filipino flavoring packets are easy to use, however, they tend to be pretty high in sodium. We want to keep sodium at bay at least until your baby is 12 months old and their kidneys are a bit more mature.
Worried your baby's food will be bland? Worry not!
Traditional Filipino cooking focuses on the flavours created by cooking the ingredients in different manners (such as sautéing vs. boiling) and using different parts of the meat to impart even more flavour. Different ratios of these basic ingredients also change the foundations of many dishes, depending on its intended use.
For example, to start a flavourful broth foundation, chunkier cuts of garlic, ginger, and onion along with using the whole chicken (bones and all) will give it a depth of flavour and added nutrients like collagen and iron from the chicken. On the other hand, stews and stir frys will be better off with mincing the flavour trio as to only lend a subtle flavour to the dish, while letting the other ingredients take the main stage.
If you've ever wondered which meals and ulam (the term Filipinos use to describe a meal that you eat with rice; it roughly translates to "dish" in English) you can offer your baby, here are 5 Filipino dishes you can feed your baby. For those that may be new to Filipino cuisine, I've included links to recipes so you can try them out!
5 Filipino Dishes you can Feed Your Baby
Munggo
Around 6 months of age, you can easily and safely offer munngo to your baby. Munggo is a mung bean stew flavoured with sautéed chopped onion, garlic, and tomato. Mung beans are a great first food because they're high in iron! The munngo should be cooked through and can easily be mashed with a fork. If making a big pot for the whole family, I suggest taking a bowl-full out for your baby while you finish seasoning the rest of the pot for the grown-ups. Some families add chopped spinach or horseradish leaves. These are good additions for baby's bowl too, just make sure they are thoroughly cooked and chopped finely as well. Bigger pieces of spinach can be offered to older babies (around 8-9 months). You can serve the munggo by itself or with a side of rice to your baby – spoon fed or in a bowl for baby to experiment with.

Another tip, you can also puree the munggo to your desired consistency. This might be a good tip if your baby is really young, 4 – 8 months.
Pancit
This is one of the most inarguably quintessential and popular Filipino dishes! There are many varieties of pancit across the regions of the Philippines but some of the most commonly eaten are pancit bihon or pancit canton. Canton noodles are thicker and will best be offered for babies who do not have their pincer grasp mastered yet as this is easier to pick up. Bihon noodles are made from rice flour and are thin – best offered to baby once their pincer grasp is more established. Some families include snap peas and celery in their pancit, which may pose as a choking hazard, or simply be difficult for a baby to breakdown in their mouths, so ensure this is removed once you offer it to baby.
Try this recipe for pancit! Feel free to sub in pork loin instead of the fancier lechon (crispy roasted pork).
Arroz caldo
Arroz caldo, or lugaw, is a ginger and chicken porridge. Using the whole chicken, bones, and meat to flavour the porridge is a great way to add taste and nutrients as dark meat is higher in iron. To serve to baby, you can mash or chop the chicken pieces, remove the chunky bits of garlic, onion, and/or ginger as this may serve as a choking hazard. If your family serves arroz caldo with a side of boiled egg like my family does, this is another great opportunity to introduce an iron rich food to baby. You can offer arroz caldo to your baby at around 6 months of age.

Tip: remember, egg is a top priority allergen!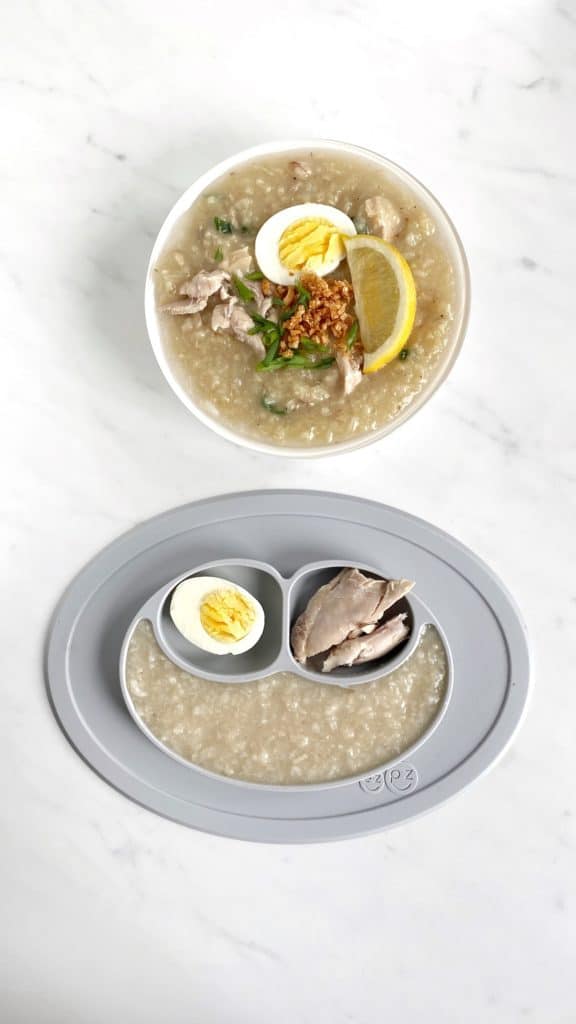 Lumpia
Lumpia is a Filipino spring roll traditionally made as a party food! Next time you are getting ready for a big batch of lumpia, make your baby some meat kababs. While it is not safe for baby to eat deep fried spring rolls yet, use the lumpia filling mixture to introduce your baby to the same fun flavours we love! Commonly used ingredients for lumpia include:
ground pork
minced onions,
carrots,
water chestnuts
green onions.
Instead of deep frying, cook the shaped kabobs in a little olive or canola oil in a non-stick skillet or roast them in the oven. You can vary the size of the kabob to your baby's eating ability and let them have fun experimenting with it.
Chicken Tinola
A classic and comforting dish. This broth based ulam is made with whole chicken, ginger, garlic, lemongrass stalks and garlic, chayote (unripe papaya) and spinach or horseradish leaves. Again, this dish is very simple and easy to make using household ingredients. The secret is to boil the whole chicken and aromatics for a long time until it develops a deep broth flavour. The vegetables are added at the end. Ensure that they are soft and thoroughly cooked before serving to your baby. When offering this to a younger baby, you can mix some soft rice, soup, and mashed chicken to spoon feed baby. When offering to an older baby, you can prepare a plate of rice, shredded or diced size pieces of chicken (the thigh and leg portion has more iron), and spears of soft chayote. The soup should be strained to ensure no little bits of bone or aromatics are left and this yummy broth can be offered to baby in an open cup.
Try this recipe for chicken tinola!
There you go, a few basic but classic Filipino dishes you can enjoy with the whole family – including baby! I hope that this little guide not only inspired you to try more Filipino foods, but also has empowered the meaning of culture and passing on traditions to your little ones.
It is never too early to start, and what better way to show your love than with traditional, home cooked meals that will surely be loved from infancy to adulthood.
Okay – it's back to Jess and Nita! We want to thank Mae SO MUCH for providing this information to our community. We hope you love it and feel just as inspired as we do. Click here if you'd like to learn more about Mae on Instagram!
And if you enjoyed this article, check out these 5 Indian Foods You Can Offer Your Baby!