This post was written in paid partnership with Manitoba Egg Farmers. As always, all opinions are our own.
Muffins can almost always be included on your mental list of "foods my baby will eat". Am I right? Right! We've created a few baby muffin recipes in our ebook, Whole Food Recipes for Your Baby, and they've been a hit for so many of you. So, we set off in our kitchens to create more recipes that you, your baby, and even your toddler can enjoy.
While we were scheming up the perfect baby banana muffin recipe, we wanted to achieve a few things:
First, to prepare a recipe that was going to be nutrient dense with iron and healthy fats.
Secondly, ensure it was yummy without the use of refined sugar.
Lastly, safety. We wanted this recipe to be safe for a little eater who is starting out at 6 months or even an 8 month old baby who is embarking on their transition to finger foods.
Mama nation…We. Did. It.
Welcome to a baby banana muffin that's:
Designed to meet your growing baby's nutritional needs (nod to our dear friends, iron and fat)
Crumbly and dissolvable so that it doesn't gum up in baby's mouth
Loved by ALL ages! The adults and children in our families all adore this muffin!
Why bake for baby with fortified infant cereal?
Substituting flour for fortified infant cereal is a great way to boost the iron content of baking recipes for your baby. You'll notice this is included on our ingredient list. We're the type of mama-Dietitians that are all over infant cereal. Moreover, we encourage you to use it in fun ways like baking, adding it as a thickener to soups or adding some to baby friendly smoothies (yes, that's a thing!).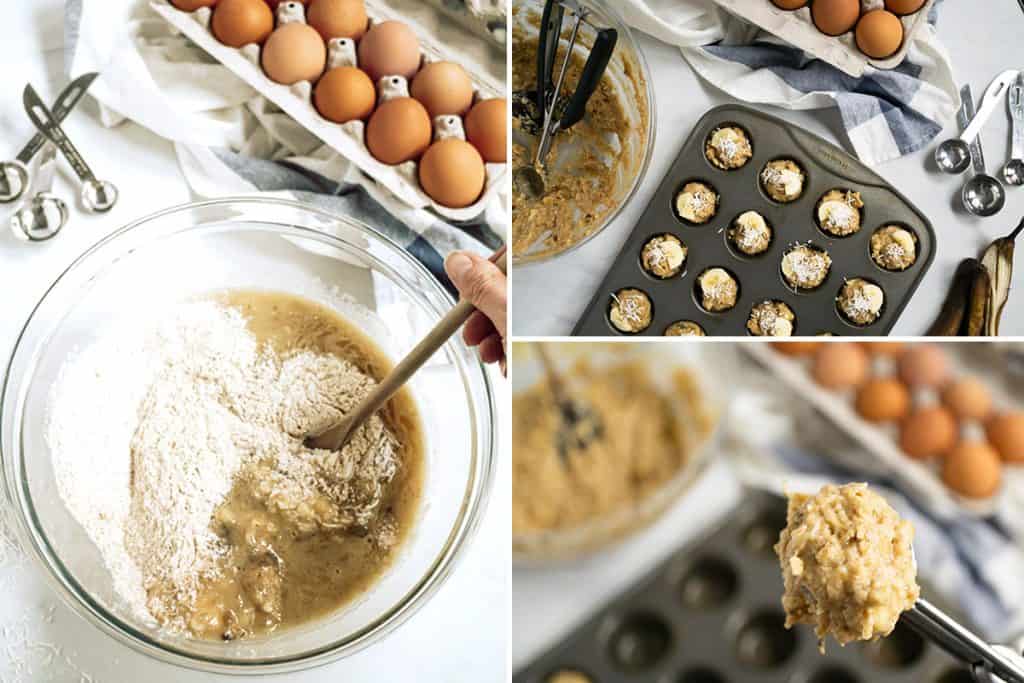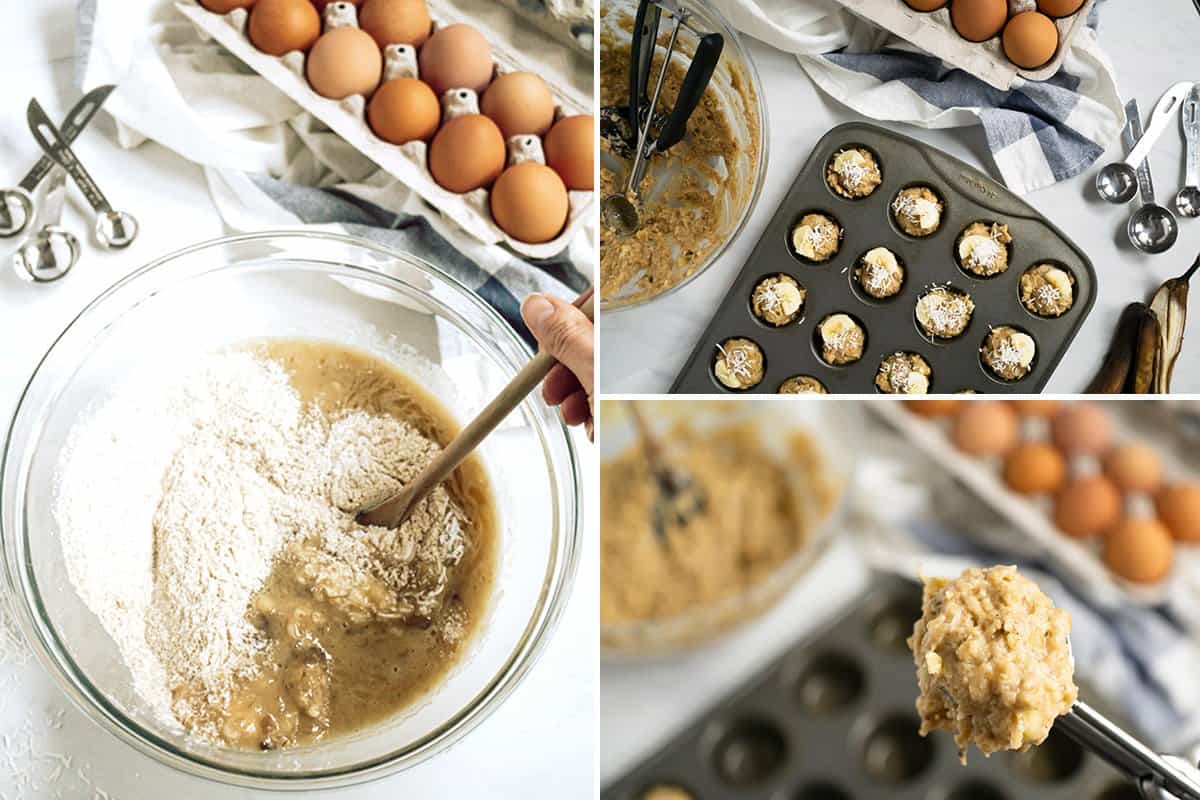 Eggs contain a lot of nutrition for a growing baby
Eggs also help contribute a significant source of iron to this recipe. After multiple attempts and kitchen testing, we agreed that three eggs would be perfect – this allowed us to produce a muffin that not only includes iron but other key nutrients such as:
Fat: required for your baby's rapid growth and development
Protein: important for building and repairing muscles, organs and other body tissues. Protein is also a building block for hormones, enzymes, and antibodies
Iron: a critical nutrient that helps carry oxygen to all your baby's cell; between 7 and 12 months, your baby's iron needs are especially high
Choline: plays a vital role in cognitive development and processes that help your baby's body produce and repair DNA
Vitamin B12: helps to keep the body's nerve and blood cells healthy
Purchasing eggs means big time local love
If you live where we do, smack in the middle of Canada in a city affectionately known as Winterpeg aka Winnipeg, Manitoba, then it's soooooo important for you to know this: the eggs you typically purchase at your local grocery store are likely supplied by an egg farmer who isn't too far away. Eggs found on the shelves in Manitoba are produced in Manitoba. We definitely think that's special. After all, farmers feed the world!
Eggs are a staple food for many families, and certainly for families with a young baby, eggs are an economical way for you to offer your baby a host of nutrients!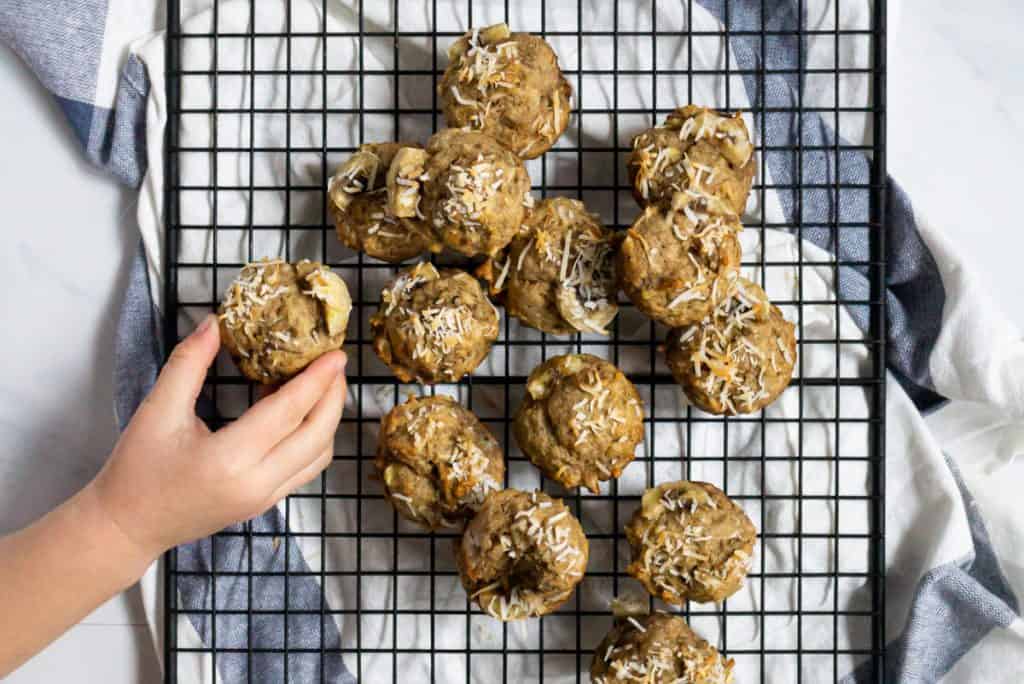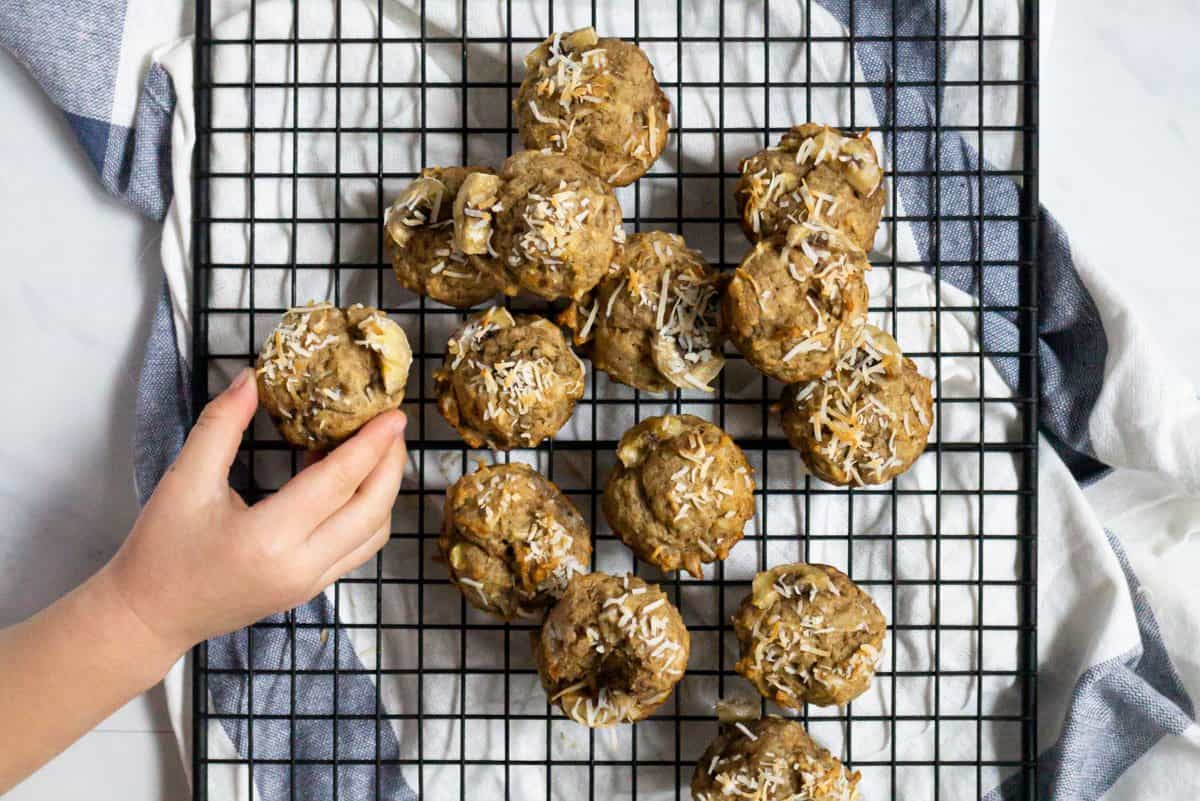 A few more noteworthy considerations about this baby banana muffin recipe
We know…we get excited about our new recipes. But we just can't help but gush! It was really important for us to create a muffin recipe that was sweet tasting without the addition of refined sugar or other syrups. If you've been through our Start Solids Confidently e-course, you'll know that we discourage these sweets until your kiddo is closer to age two.
So, what's a mama to do? Rely on naturally sweet fruits and vegetables! In this case, we use the powerful properties of ripe bananas and cinnamon to enhance the sweetness.
Lastly, shredded coconut…make sure you don't skip out on this ingredient. The coconut not only enhances the fat content of the muffin but it also helps contribute to the exact texture we were after!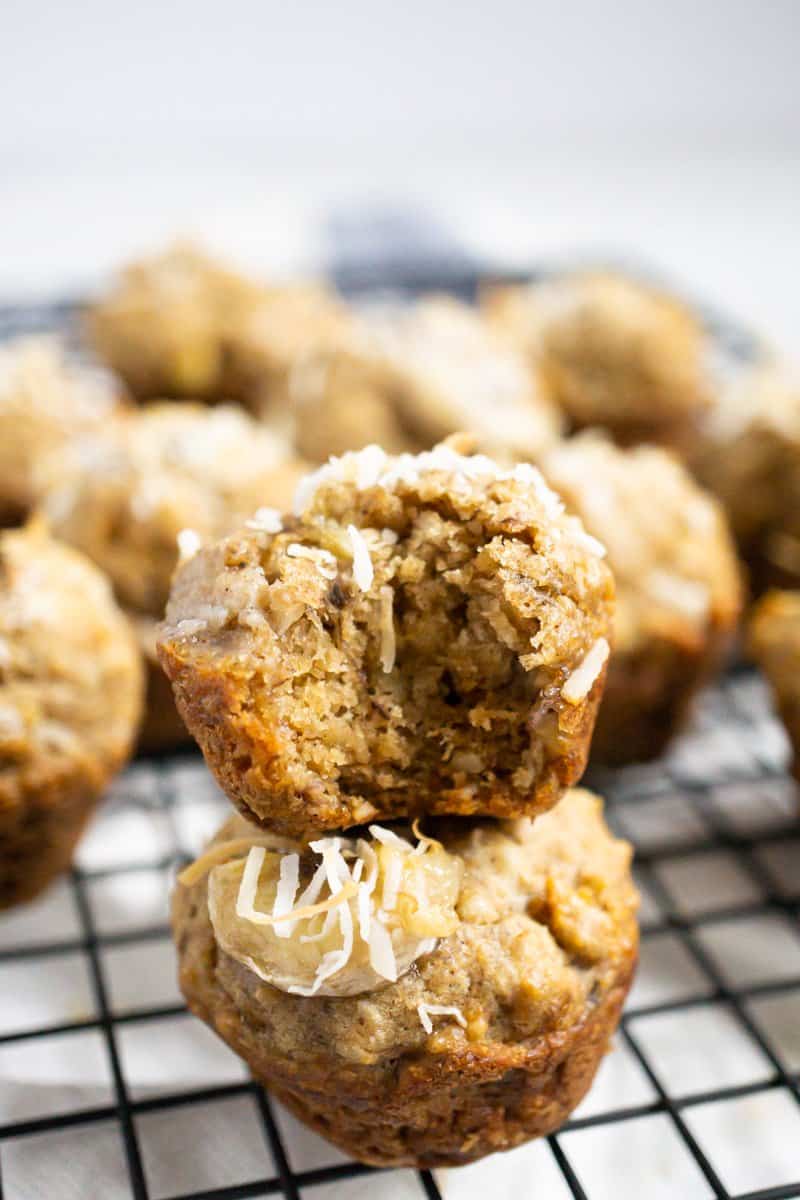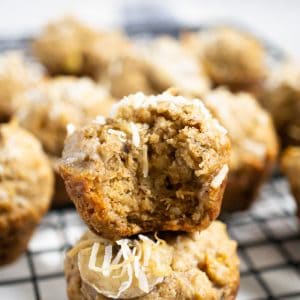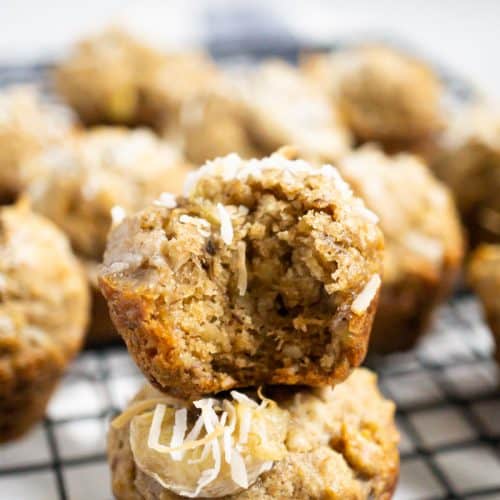 Coconut Baby Banana Muffins
A coconut banana baby muffin with multiple food sources of iron and fat! This recipe is bound to be a hit with your little eater and better yet, it's freezer friendly.
Print
Pin
Rate
Servings:
24
mini muffins
Ingredients
⅓

cup

canola oil

3

eggs

1

cup

packed mashed ripe bananas

about 3 bananas

1

teaspoon

baking soda

1

teaspoon

vanilla extract

1

teaspoon

cinnamon

1

cup

white or whole wheat flour

1

cup

iron fortified infant oat cereal

⅓

cup

quick cooking oats

⅓

cup

shredded unsweetened coconut
Instructions
Preheat the oven to 375 degrees Fahrenheit (190 degrees Celsius).

Grease mini muffin tin or insert paper cups.

In a medium sized bowl, beat the oil and eggs really well.

Add in the mashed bananas, followed by the baking soda, vanilla extract and cinnamon. Ensure everything is mixed really well.

In a separate large bowl, combine the flour, infant cereal, quick oats, and coconut. Create a well with these ingredients.

In the well, add in wet ingredients. Combine everything without over mixing.

Divide the batter evenly between the muffin cups, filling each cup about two-thirds full.

Bake muffins for 20 minutes (for mini muffins, longer for full size muffins), or until a toothpick inserted into a muffin comes out clean. Err on the side of over baked as you want to ensure the crumb is crumbly, not gummy, for your baby.

Place the muffin tin on a cooling rack to cool.

The muffins can be stored in an airtight container at room temperature for up to 2 days, or in the refrigerator for up to 4 days. They keep well in the freezer in a freezer-safe bag for up to 3 months.
Thanks again to Manitoba Egg Farmers for partnering with us to bring you this recipe!
More Recipes Your Family Will Love
Toddler Friendly Oat Balls
Oatmeal balls are a great option for a quick and simple snack, and they can be easily adapted to meet the needs and preferences of your family.
Check out this recipe
Banana Carrot Zucchini Muffins
Banana muffins but loaded with veggies! Great for toddlers and for school lunches.
Check out this recipe