Introducing our latest recipe: Banana Carrot Zucchini Muffins – the ultimate kid-friendly muffin that packs a nutritious punch! These muffins offer gentle vegetable exposure and are scrumptious all at once. You can likely make these year round but with the fall season approaching, we think it's actually perfect for right now. This recipe is sure to be a hit with both kids and parents alike. 
Why We Love These Muffins
We're Registered Dietitians which means we kinda-sorta have a thing for vegetables! We know that children across North America often struggle with their produce intake butttt they certainly love a good muffin. So, this is a combination of the best of both worlds: veggies + baking! 
It's actually really normal for children to be somewhat leery of vegetables, but it doesn't mean we can't serve them in fun and unique ways to maintain that exposure. If your child rejects buttered carrots or zucchini fries, they might do well with a recipe like this where the vegetables are baked into a tasty muffin. 
Simply put, we love that this recipe offers exposure to vegetables in a way that's fun and approachable for children who are learning to eat.
And, we can't forget that these banana carrot zucchini muffins are also school friendly as they don't contain any nuts! 
Check your local library or good old Amazon for some books about zucchini. Then make the connection and prepare these muffins with your little one!
Here are some suggested reads: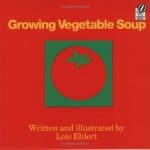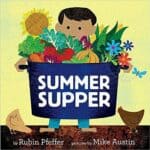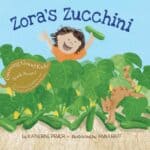 When Can I Serve These Muffins to My Child?
As you know by now, we like to keep it professional in this space, but also add a dose of reality. Formally it is recommended that children under 24 months not be offered foods that contain added sources of sugar. In this recipe we utilize sweetness from maple syrup which by definition is an added sugar. 
However, this recipe is very wholesome! It's also an opportunity for your child to enjoy a variety of other ingredients so you're welcome to wait until 24 months if you're a rule follower, or, serve it at 18 months knowing that it offers a small bit of added sugar (½ tsp maple syrup per muffin, more on this later!). 
If you're wanting to familiarize yourself with sugar, consider this read: Babies, Sweets and Sugar: The Complete 411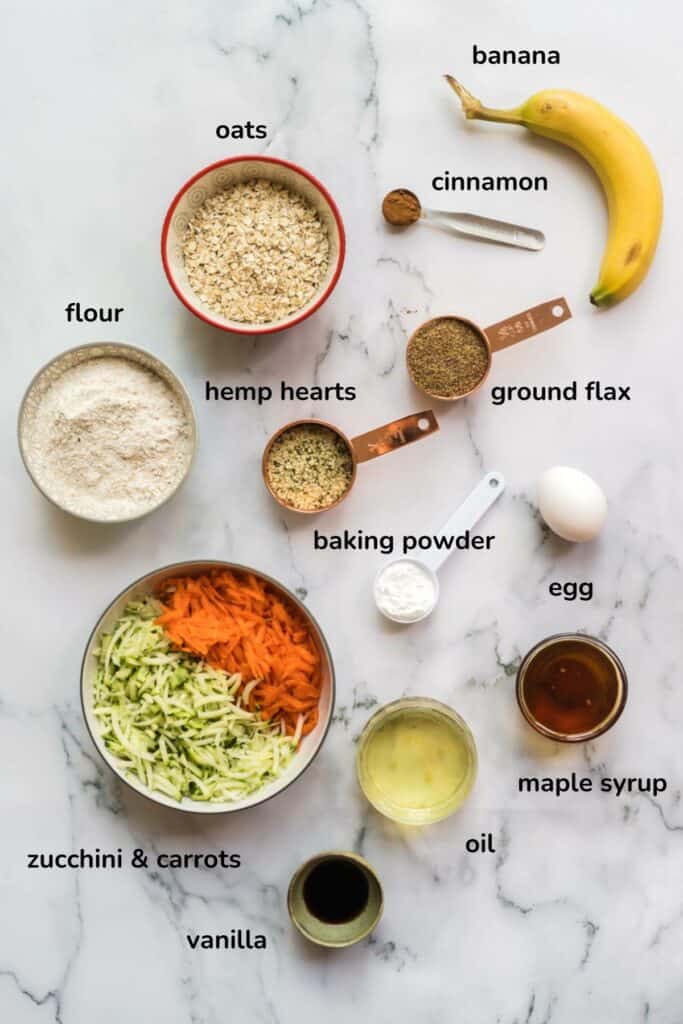 You'll see that this muffin recipe calls for one of our favorite ingredients, and something we try to enjoy often, flaxseed. Flaxseed, also known as linseed, is a small, brown or golden-colored seed derived from the flax plant (Linum usitatissimum). Flaxseed is rich in nutrients, particularly omega-3 fatty acids -which is really important for toddlers and young children-, dietary fiber, and lignans, which are plant compounds with antioxidant properties. Basically…it's good stuff.
These tiny seeds are often consumed ground or in oil form and can be sprinkled over cereals, yogurt, salads, or added to smoothies and baked goods like these banana zucchini carrot muffins. 
You can purchase flaxseed in whole seed form or ground form. Note that this recipe calls for ground flaxseed so you are welcome to purchase it like this or grind it yourself at home! 
Tip 1: be sure to store ground flaxseed in the fridge to maintain optimal freshness and taste! 
Tip 2: we've found that flaxseed that is sold in the international aisle of the grocery store is often less expensive! 
My Child is Allergic to Eggs, What Can I See Instead?
Allergies can be really frustrating and scary for both parents and children. Luckily, we have a solution for you if you need to keep your muffins egg free:
Option 1: make a "flax egg", simply stir together 1 tbsp ground flax with 2 ½ tbsp hot water. Allow it to sit for 5 minutes to allow time for the gel to form.
Watch our instructional video here!
Option 2: make a "chia egg" which is really similar to the flax egg concept we've previously mentioned. Mix together 1 tbsp chia seeds + 2.5 tbsp water, let it rest for 5 minutes to thicken. It should be gel-like and thick. 
Option 3: use an egg replacement product like Bob's Red Mill Egg Replacement. You can purchase it online or at your local grocery store. 
Suggested reading: Egg Allergy? Vegan Baby? Egg Substitutes for Your Baby
Hemp hearts, also known as hulled hemp seeds or shelled hemp seeds, are the edible inner parts of the hemp seed. Hemp seeds come from the hemp plant but don't worry, they are safe for babies to consume.
Hemp hearts are a rich source of various nutrients, things like fibre, protein, fat, some iron and magnesium too! In particular, we love them for their omega-3 profile. 
They have a mild, nutty flavor and a soft texture, making them versatile and easy to incorporate into various dishes. They can be added to smoothies, mixed into yogurt or oatmeal, or you can add them to baking recipes like we've done here!
Maple syrup is the sweetener we've opted to use in this recipe and yes, it is a source of added sugar! If you're concerned that these muffins might be "too sugary" we'd love to impart a bit of perspective. This recipe calls for ¼ cup of maple syrup and there is a yield of 24 mini muffins. That means that each muffin really only has ½ tsp of maple syrup. Trust us, you'll want to keep the maple syrup in the recipe to help with the taste and texture of a final product you and your family will love!
Having a handful of muffin recipes is such a life saver. You can serve these banana carrot zucchini muffins up for breakfast, as part of a meal or snack. And if you do, be sure to let us know by leaving a comment or tagging us on Instagram with your happy, healthy eater! 
Let's Make Banana Carrot Zucchini Muffins!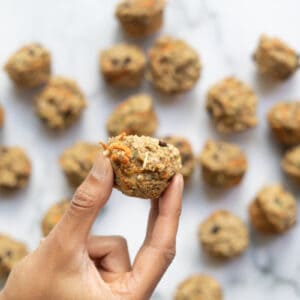 Banana Carrot Zucchini Muffins
Banana muffins but loaded with veggies! Great for toddlers and for school lunches.
Print
Pin
Rate
Servings:
24
mini muffins
Ingredients
1

cup

whole wheat flour

3/4

cup

quick oats

1/3

cup

hemp seeds

¼

cup

ground flaxseed or wheat germ

1

tbsp

baking powder

1/2

tsp

cinnamon

1

large ripe banana

1/2

cup

canola oil

1

large egg

1/4

cup

maple syrup

1

tsp

vanilla extract

1

cup

grated carrot

1

cup

grated zucchini
Add in - pick one:
¼

cup

mini chocolate chips

use dairy-free if needed

raisins

chopped dates
Instructions
Preheat the oven to 350 degrees Fahrenheit. Grease a mini muffin pan.

In a medium bowl, combine flour, oats, hemp hearts, ground flaxseed, baking powder and cinnamon. Set aside.

In a large bowl, mash ripe banana. Whisk in oil, egg, maple syrup, and vanilla extract.

Stir in grated carrot and zucchini.

Add flour mixture to the wet mixture and stir until just combined, be sure to not over stir.

Fold in chocolate chips, dates or raisins, if using.

Evenly distribute batter throughout the mini muffin pan.

Bake for 13-15 minutes or until a toothpick inserted into the centre of a muffin comes out clean.

Let muffins rest in the pan for 5 minutes before moving to a cooling rack.
Notes
These mini muffins freeze well so go ahead and even double the recipe so you'll always have some on hand!
More Recipes Your Family Will Love
Fruit Salsa and Cinnamon Chips
This summer fruit salsa is refreshing, nourishing, and served alongside cinnamon chips - making it ultra kid-friendly. Make this all summer long for your kids, or yourself.
Check out this recipe
Coconut Baby Banana Muffins
A coconut banana baby muffin with multiple food sources of iron and fat! This recipe is bound to be a hit with your little eater and better yet, it's freezer friendly.
Check out this recipe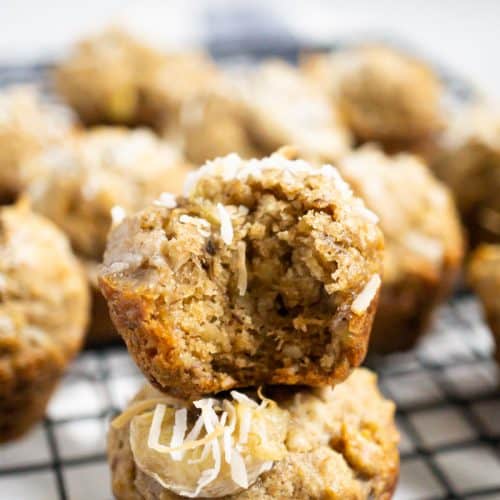 Toddler Friendly Oat Balls
Oatmeal balls are a great option for a quick and simple snack, and they can be easily adapted to meet the needs and preferences of your family.
Check out this recipe
Baby-Friendly Chillas (savoury chickpea pancakes)
Enjoy this recipe for chilla which has been adapted to include extra iron! Chillas are a type of savoury pancake that is made with chickpea flour and is enjoyed in many homes across India and Pakistan!
Check out this recipe