Oatmeal balls are a great option for a quick and simple snack, and they can be easily adapted to meet the needs and preferences of your family. As any parent knows, kids seem to love snack time! It's a great opportunity for them to refuel and it's also a chance to offer up extra nutrients. These tasty oatmeal balls are a healthy and convenient snack option that your little ones will love, and they're also bite sized so you can travel on all your adventures armed with a great snack.
In this post, we'll share our favorite recipe and tips for making these delicious oatmeal balls that are sure to become a hit with your kids.
What Age Can I Offer my Toddler an Oatmeal Ball?
It's important to consider your child's age and chewing abilities when introducing new foods. Most older toddlers are able to chew and swallow solid foods without difficulty, so around 18 months is generally a good age to start introducing oatmeal balls (or other soft, bite-sized snacks).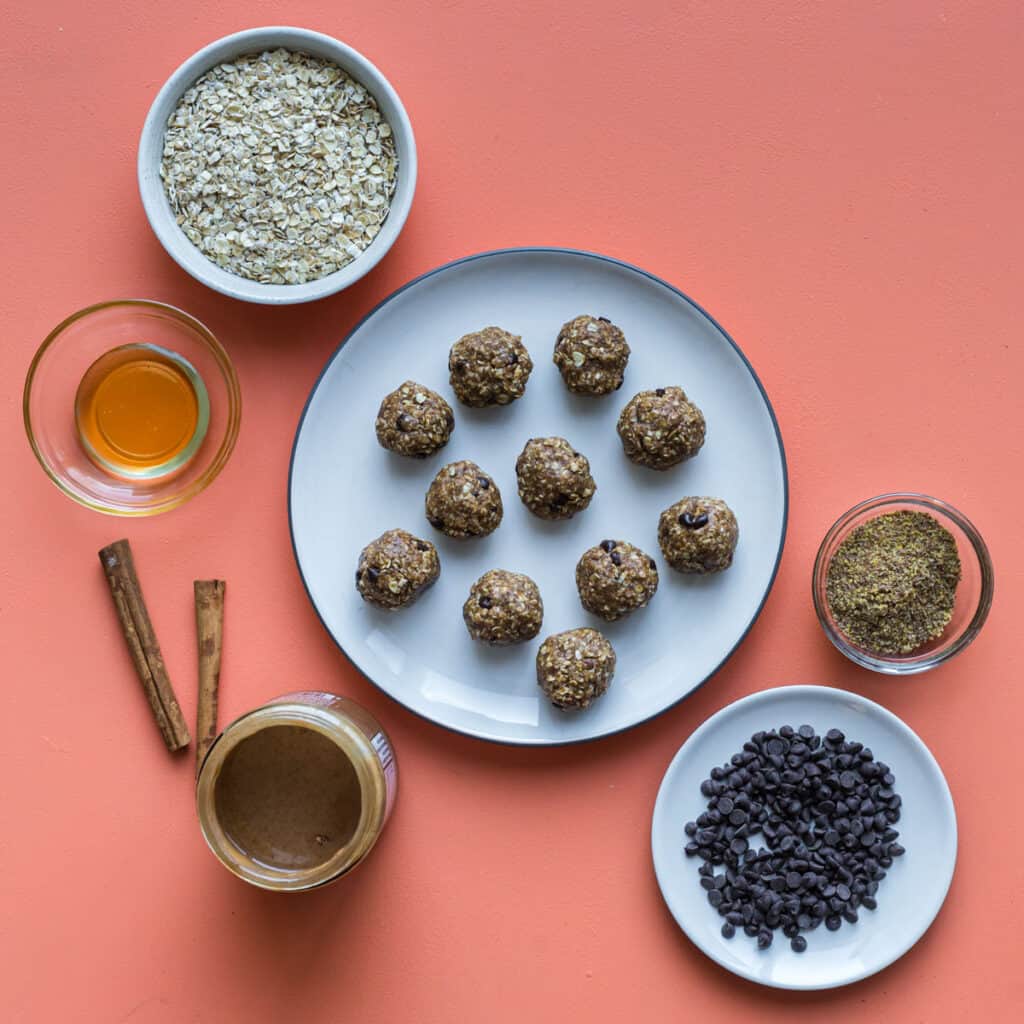 What Nut Butter Can I Offer My Child?
Oatmeal balls are typically made with nut butter, which adds flavor and nutrients. Some common options include almond butter, peanut butter, and cashew butter. It's important to choose a nut butter that your child can tolerate, as some kids may have allergies or sensitivities to certain types of nuts. If you need to be mindful of nut allergies for either your child or perhaps if you're sending the snack to a nut aware childcare facility, you can use seed butter as a replacement. Seed butter is made from ground seeds (like sunflower seeds, sesame seeds, or pumpkin seeds) and is a good source of protein, healthy fats, and other nutrients.
What Type of Oats Works Best?
Oats provide complex carbohydrates, fibere, and a host of other nutrients. From our experiences, quick oats seem to be the best in terms of holding together. Old-fashioned oats or rolled oats can also be used. However, you may want to prepare it in a food processor to obtain the right texture so the ball holds up together nicely. 
No one wants to be cleaning up a trail of oatmeal around the house…right?
Steel-cut oats may be a bit too crunchy for toddlers, so it's best to stick with old-fashioned or rolled oats. 
This Recipe Contains Honey. Is That Added Sugar?
Honey is a natural sweetener that is made by bees from the nectar of flowers. It's a popular ingredient in many recipes, including oatmeal balls, where it's used to add a touch of sweetness. However, it's important to note that honey is a concentrated source of sugar, and we recommend avoiding the use of honey or other sweeteners before your baby is 12 months old. Check out our blog post on sugar: Babies, Sweets, and Sugar: the complete 411! – Happy Healthy Eaters. Additionally, honey poses the risk of infant botulism under a year. 
How Can I Adapt This to be Gluten Free or Vegan?
To adapt the oatmeal ball recipe to be gluten-free, simply use gluten-free oats instead of regular oats. You can also use a plant-based sweetener (like maple syrup, agave nectar, or corn syrup) instead of honey to make the recipe vegan. Just be sure to check the label for allergens and choose a product that is suitable for your child's dietary needs.
Why is This a Healthy Snack Option?
Oatmeal balls are a healthy snack option because they provide a balance of nutrients and energy-sustaining carbohydrates. 
The nut butter and oats provide protein, healthy fats, and fiber, which help to keep your child feeling satisfied and energized. 
The flax seeds provide fibre and omega 3 fatty acids.
 The added sweetness from the honey (or other sweetener) makes the oatmeal balls a tasty treat that your child will enjoy, while the small amount of sugar is modest and not overloading.
Oatmeal balls are also easy to pack and take on the go, making them a convenient snack option for busy families.
How Can I Store This Recipe? Can They be Frozen?
Oatmeal balls can be stored in an airtight container in the refrigerator for up to a week, or they can be frozen for up to three months. To freeze oatmeal balls, simply place them in a single layer on a parchment-lined baking sheet and place them in the freezer until they are firm. Once frozen, transfer the oatmeal balls to an airtight container or zip-top bag and store them in the freezer until you are ready to eat them. To thaw frozen oatmeal balls, simply transfer them to the refrigerator or allow them to come to room temperature on the counter. You can also thaw them quickly by placing them in the microwave for a few seconds or put the sealed container into a warm-water bath for a few minutes.
With a little bit of creativity and some simple ingredients, you can make a batch of delicious and healthy oatmeal balls your toddler will love. Feel free to double or triple the recipe! If your toddler is anything like our kids, these oatmeal balls will disappear faster than you can say 'happy snacking'!
Learn How to Make These Toddler Friendly Oat Balls: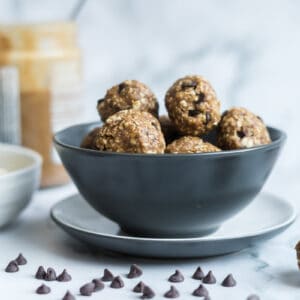 Toddler Friendly Oat Balls
Oatmeal balls are a great option for a quick and simple snack, and they can be easily adapted to meet the needs and preferences of your family.
Print
Pin
Rate
Ingredients
1

cup

oats

⅓

cup

nut butter

2

tbsp

ground flax

2

tbsp

honey

1

tsp

vanilla

¼

tsp

cinnamon

1

tbsp

mini chocolate chips

optional
Instructions
In a medium bowl, combine the oats, nut butter, honey, ground flax, vanilla extract, and cinnamon. Mix well until the ingredients are well combined and the mixture forms a sticky dough. Alternatively, you can combine the ingredients in a food processor.

If the dough is having a hard time coming together, you can add 1 tsp of water to make it more sticky.

Stir in the chocolate chips (if using).

Scoop out spoonfuls of the mixture and roll them into balls using your hands. The size of the balls will depend on your preference, but aim for a size that is appropriate for your toddler to handle.

Place the oatmeal balls on a parchment-lined baking sheet and refrigerate until firm, about 1 hour.

Once the oatmeal balls are firm, transfer them to an airtight container and store in the refrigerator for up to a week, or in the freezer for up to three months.

To serve, allow the oatmeal balls to come to room temperature. You can do this by placing them on the counter, thawing them in the refrigerator, or by placing them in a sealed container in warm water for a few minutes. Enjoy!
Notes
This recipe makes 15-20 oatmeal balls, depending on the size of the balls.
More Recipes Your Toddler Will Love
Strawberry Frozen Yogurt Bark
Your baby will have fun exploring and enjoying the cold sensation of this fruity frozen yogurt bark!
Check out this recipe

Papaya Banana Smoothie
A fresh and flavourful smoothie sweetened by whole fruit, suitable for babies 9 months and older!
Check out this recipe

Coconut Baby Banana Muffins
A coconut banana baby muffin with multiple food sources of iron and fat! This recipe is bound to be a hit with your little eater and better yet, it's freezer friendly.
Check out this recipe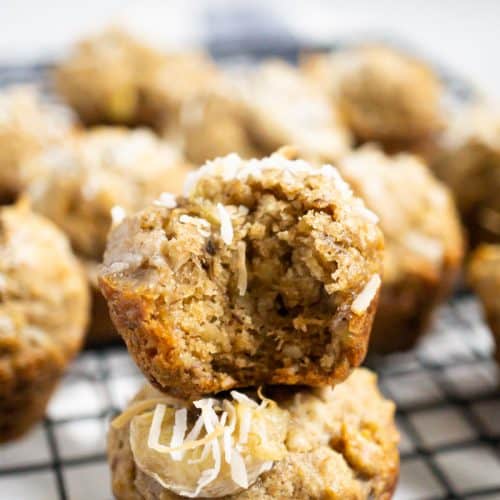 Southwest Pasta Salad
No need to reheat this veggie-loaded Southwest Pasta Salad, which makes it a great packed lunch idea for your toddler… or yourself!
Check out this recipe
A huge shoutout to University of Manitoba human nutritional sciences practicum student, Manvir Bhamra, for her tremendous work in contributing her writing and recipe development skills to this post!