This recipe took a bit of trial and error but we finally nailed it! The secret ingredient is…prunes! Yes! Prunes are great for digestion but also lovely in baking because they add a bit of natural sweetness.
Speaking of digestion, don't forget that as your baby is transitioning from a liquid diet to a solid food diet, there will be changes that take place. Some babies might poop more or less often, others might pass a bit more gas and for some babies, they just flow normally!
Now let's get into this recipe!
What age can I give this to my baby?
You are welcome to serve this teething biscuit when your baby is 6 months old. It's on the hard and dry side, mostly because we wanted to create a final product that dissolves as your baby gnaws on it. In their mouth, babies have amylase which is an enzyme found in saliva. This enzyme helps initiate digestion.
Let the drooling begin!
What shape should I slice it into?
We recommend slicing it into rectangles that are slim so that your baby can insert the biscuits in the side of their mouth and gnaw down on it. If the biscuit is cut into a wide circular shape, that might make it challenging for your baby to insert it into their mouth.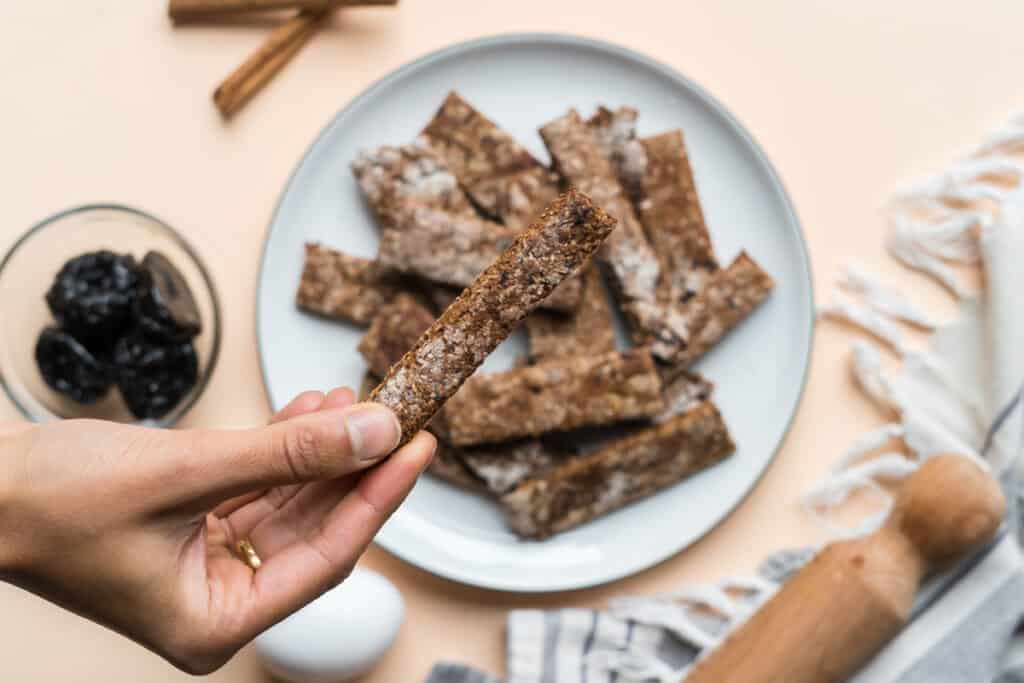 How do I serve it to my baby?
After slicing it, place the biscuit on your baby's tray table. If your baby isn't picking it up or feels a little lost then place the biscuit in their hand and close their fingers. You can also enjoy a biscuit with your baby to model eating. 
Why use iron fortified infant cereal?
It's because babies have uniquely high iron needs! They need 11mg of iron a day once they turn 7 months. For perspective, a grown male needs 7mg. So this means a baby needs 1.4x more than a male adult! Yowza.
Iron fortified infant cereals have iron added to them. Interestingly enough, this was a Canadian invention that came from a world recognized hospital, The Hospital for Sick Kids in Toronto. While this happened in the 1930's, now the principle of fortifying cereal with iron is a global practice to help prevent iron deficiency. Using infant cereal in fun ways such as for baking helps to elevate iron intake, that's all!
Can these baby biscuits be frozen?
We hope you enjoy this recipe as much as we have. They are a great and healthy alternative to what might be found in grocery stores, plus, a fraction of price. What we appreciate about the recipe as busy moms ourselves is that we can prepare a batch ahead of time and freeze them. Then, when a tooth is poking out you can offer it to your baby and toddler. 
WATCH HOW TO MAKE THESE HOMEMADE TEETHER BISCUITS
These teether cookies are great any time of the year but we think they're especially fun making them around the holidays so that baby can enjoy Christmas cookies too!
Homemade Teething Biscuits
There are a lot of teething crackers in the baby food aisle, but we have a feeling you'll love our recipe because it's made with whole foods and we cleverly use iron fortified infant cereal to make sure your baby gets in a bit of iron! 
Print
Pin
Rate
Ingredients
1

cup

whole wheat flour

¾

cup

iron fortified infant oat cereal

1/3

cup

ground flax seeds

1

tsp

baking powder

1/2

tsp

cinnamon

1/2

tsp

ginger

¼

tsp

allspice

¼

tsp

ground cloves

½

cup

dried prunes

2

eggs

1

tbsp

molasses
Instructions
Preheat the oven to 375 degrees Fahrenheit.

In a medium sized bowl, whisk together the flour, infant cereal, flax seeds, baking powder, and spices.

Remove any pits from the prunes.

Place the prunes, eggs, and molasses in a mini food processor and blend until semi-smooth.

Stir the wet ingredients into the dry. Roll up those sleeves and use your hands to mix everything into a smooth dough.

Place wax or parchment paper on your counter and sprinkle some flour on it.

Place the dough on the paper then flip it over to flour both sides.

Sandwich it with another piece of wax paper on top.

Roll until ~¼" thick. If you notice the dough sticking to the paper, then flour it a bit more.

Cut into strips or use your favourite cookie cutter shapes to cut out the cookies. Re-rolling the dough with the scraps leftover from the cutouts.

Bake for 15 minutes. Flip each cookie over and bake another 10 or so minutes. The cookies are done when they are hard and no longer dough-y.

Keep the cookies in the fridge or freezer and lightly toast before serving to your baby!
You may also be interested in....
Coconut Baby Banana Muffins
A coconut banana baby muffin with multiple food sources of iron and fat! This recipe is bound to be a hit with your little eater and better yet, it's freezer friendly.
Check out this recipe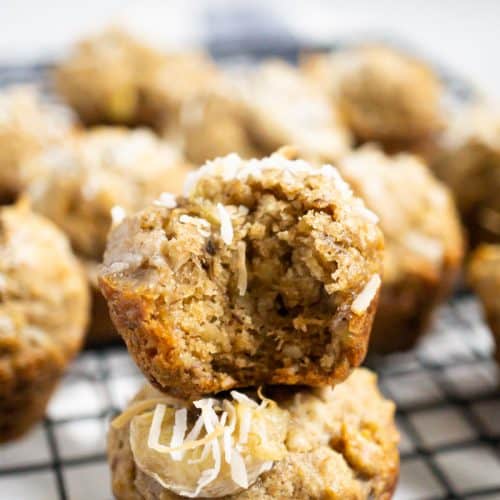 Chia Berry Sauce Recipe
Enjoy this healthy, no-sugar added, fiber rich fruit sauce with your baby and the rest of the family. Harnessing chia seeds' amazing thickening power, it's beyond easy to prepare and incredibly tasty.
Check out this recipe

Fruit Salsa and Cinnamon Chips
This summer fruit salsa is refreshing, nourishing, and served alongside cinnamon chips - making it ultra kid-friendly. Make this all summer long for your kids, or yourself.
Check out this recipe
Banana Porridge Fingers (baby led weaning recipe)
Make ahead, easy-to-serve baby led weaning breakfast bar packed with energy, fibre, healthy fats, and protein to fuel your baby on busy mornings.
Check out this recipe

Allow us to ease your mind...
We know that starting your baby on solids can feel overwhelming and you may have other worries such as…
I'm afraid my baby will choke!
I'm afraid my baby won't be getting enough of the right nutrients!
I'm afraid my baby will have an allergic reaction!
I'm afraid my baby is not eating enough… too much!
I'm afraid my baby will be a picky eater!
We've created a FREE guide for you to address these fears and most of all, help you work through them! Just enter your email below and you'll get the guide sent to your inbox.