A smash cake is a mini-cake prepared to celebrate baby's first birthday! Oftentimes, parents will set up a photography scene, place the cake in front of baby, and take photo documentation of them exploring the cake… which often results in them smashing it to bits! Smash cake photos can be a fun experience and memory for the family.
We've created a naturally sweetened, whole foods version of a smash cake based on a locally popular cake favourite: the Shmoo Torte! Shmoo tortes are layers of pecan sponge cake with a whipped cream frosting and topped with a caramel sauce.
For our baby version, we sweetened the cake with bananas and crafted a date-based caramel sauce to accompany the cake.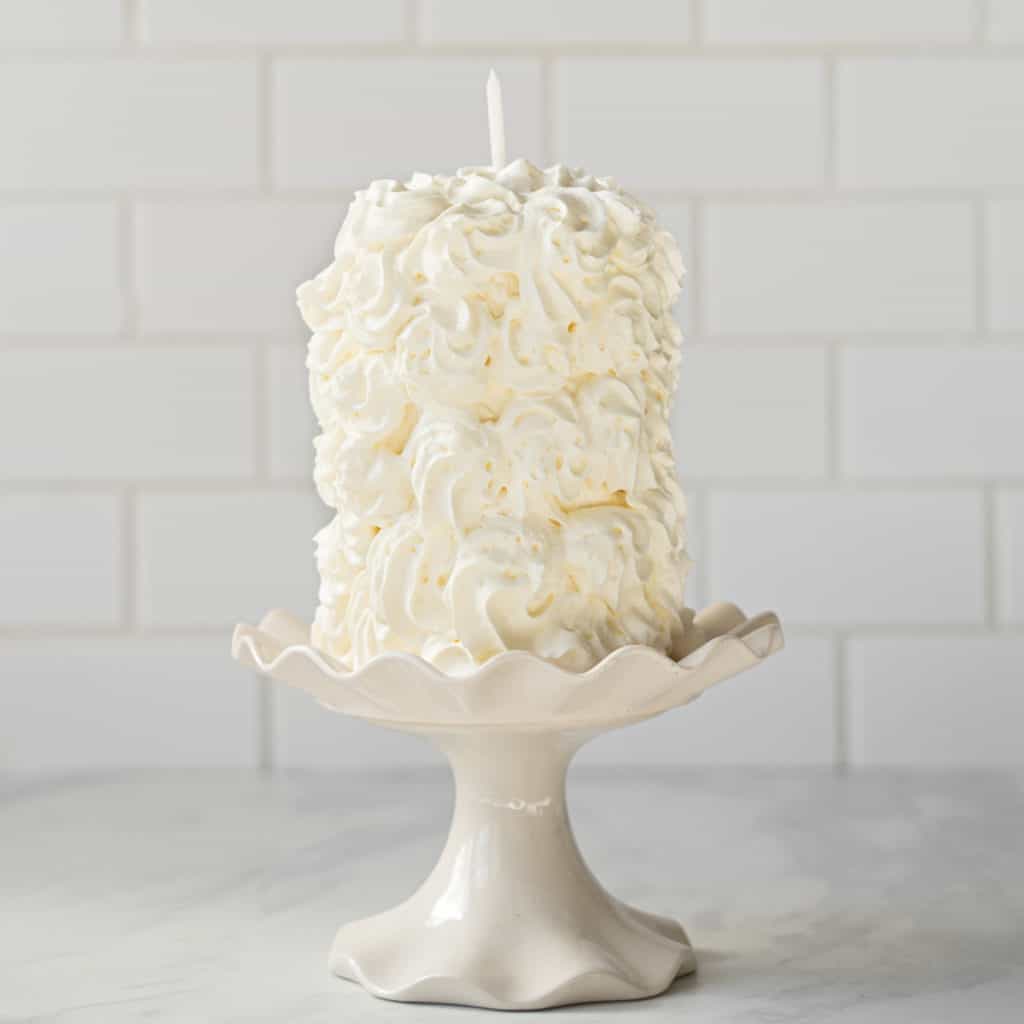 When Can Babies Have Cake (regular, full sugar, cake)?
We used to recommend avoiding sugar until a baby turns one. The most recent Dietary Guidelines for Americans now encourage caregivers to refrain from offering sugar sweetened foods until two years old. In light of the more recent research into early childhood nutrition, we would also encourage you to hold off on offering sugar sweetened foods until two years old or for as long as it makes sense. If your child starts to get wind that they're missing out on food that other family members get to eat, this could start an early sense of feeling restricted. In this case, it's practical to offer a baby-sized portion of sweet foods when those around baby are partaking.
The short answer is that it really is best to make your baby a naturally sweetened low sugar cake for their first birthday, such as the recipe in this post! But if you want to go ahead and make your baby a regular birthday cake, and give them a small portion to try, that would likely be fine as well.
What Size Pans Should I Use For a Smash Cake?
The typical pan size for a smash cake is 4″ in diameter. I also think 6″ is small enough to be cute. This recipe makes enough batter for either 4×4″ round pans or 2×6″ round pans (and yes, I dusted out my π r² math skills for that one!)
Since I'm okay with any excuse to buy kitchen tools, I got these 4″ springform pans. The springform makes it nice and easy to remove the cakes intact from the pans.
Kaleigh, from the blog Lively Table, gives this awesome suggestion: you could also buy some 2 cup Pyrex storage bowls and bake the cakes in them! They will be a bit harder to remove but then you'll have something infinitely more usable afterwards!
Another idea, from Kelsey at Modern Munch, is to bake the cake in a larger pan and then use a 4″ wide bowl to cut little cakes out of (use the bowl like a cookie cutter). This will result in some unusable cake so you may need to make more than one batch, depending on how tall you want your cake to be!
We only developed this cake after our babies turned one so they didn't get the honour of enjoying this Shmoo inspired recipe! At least, not at their first birthday. They were very eager test subjects as toddlers and school-aged kids!
So what did we serve them at their first birthday?
Jessica's oldest, Judah, is old enough that smash cakes weren't much of a "thing" yet when he turned one. This is his beach party themed cake! He was very suspicious of it and even after trying it (a very much sugar-sweetened regular cake), he had no interest in it! We often remind him that it took him some time to learn to enjoy eating cake!
When Hendrix (Jessica's second) turned one, she baked and decorated a small-ish cake to photograph him with and originally planned to let him "smash" it but her practical side won out and she decided to just give him a cupcake to explore as she knew he wouldn't eat the whole cake and didn't want to waste the food! He may or may not have been upset that he didn't get to touch the big cake!!
When Nita's first turned one, she had a big ol' Indian party for him x2. Admittedly, she ended up ordering a cake from a local bakery and some cupcakes too! It was the same bakery that catered her wedding so it meant a lot to be able to serve it at her son's birthday! Jaidev most definitely enjoyed a small red velvet cupcake!
Luksh, Nita's second son turned one during the start of the pandemic in April 2020! That meant we were all homebound – we were able to order individual cupcakes for family and friends that were wrapped as they drove by to wish him a happy birthday. He got a chance to enjoy a little cupcake too while we got to support a local business!
How to Make This Shmoo Inspired Smash Cake
While this isn't a difficult cake to make, it does take a few steps. This may be a bit overwhelming at first if you don't do a lot of baking!
And we know what it's like to have babies and precious little time between naps, nursing, meals, etc. If it makes more sense for you to break up the prep work over a few days, you can do that too!
Day 1: Make the pecan crumbs (~15 minutes)
Process the pecans into crumbs and then toast in a frying pan until golden brown. Allow to cool and then place in a sealed container until baking day.
Day 1: Make the caramel sauce (~15 minutes)
Follow the instructions for making the caramel sauce and then place in the fridge. The sauce can be served cold or heated up in the microwave.
Day 3: Bake and blend the bananas (5 minutes prep time, 30 minutes bake time)
Baked and blend the bananas then keep in the fridge until baking day.
Finish making the cake. Allow to cool and then cover with plastic wrap and place in fridge.
Make the whipped cream frosting and assemble the cake!
First Birthday Smash Cake
A refined sugar free cake for baby's first birthday inspired by the Winnipeg favourite Schmoo Torte!
Print
Pin
Rate
Ingredients
Cake Ingredients
3

bananas

baked

1

cup

pecans

6

egg whites

6

egg yolks

1/4

teaspoon

cream of tartar

1

teaspoon

vanilla

¾

cup

all-purpose flour

1

teaspoon

baking powder
Frosting Ingredients
1

cup

whipping cream

½

tsp

vanilla
Caramel Sauce Ingredients (optional)
½

cup

whipping cream

½

cup

milk

16

dates

1

tsp

vanilla

1

tsp

cornstarch
Instructions
Cake Instructions
Preheat the oven to 350° Fahrenheit. Place the bananas (with the peel on) in an ovenproof dish and baked for 30 minutes.

Once the bananas are baked, allow them to cool enough to handle. Squeeze out the bananas from the peel into a blender. Blend until smooth.

Place the pecans in a mini food processor/chopper and process until they turn into fine crumbs.

Place the pecan crumbs in a frying pan over medium heat. Stir continuously until the pecans start to turn a golden brown. Watch carefully as they burn easily!

Remove the pecan crumbs to a bowl to cool. Don't leave in the pan as they could continue to toast and potentially burn.

In a large bowl, using the whisk attachment on a hand mixer, beat egg whites with the cream of tartar until stiff peaks form (about 6-7 minutes).

In another bowl, (using the same whisk attachment) beat egg yolks until light (about 4 minutes); Add the vanilla and ¾ cup of the banana puree and whisk until mixed together. (serve the rest of the banana puree to your baby to eat!)

Combine flour, baking powder, and toasted pecan crumbs; stir into yolk mixture

Fold in one-quarter of the egg whites until combined; fold in remaining egg whites

Grease and flour two 6" or four 4" round baking pans.

Divide the batter evenly between the pans.

Tap the pans on the counter to even out the batter.

Bake at 325° Fahrenheit for 30 minutes (6" pans)/ 25 minutes (4"pans) or until a toothpick inserted in the centre comes out with dry crumbs.

Allow to cool in the pan before removing. Using a plastic knife, gently loosen the sides of the cakes by running the knife between the side of the cake pan and the cake. Turn over and gently tap the bottom.
Frosting Instructions
Whip together the whipping cream and vanilla until stiff. Once the cakes have cooled, place a layer of whipping cream in between the cakes and use the rest to frost the exterior.
Caramel Sauce Instructions
Place the half and half and dates in a microwave-safe dish. Microwave on high for 3 minutes to soften the dates.

Place the dates/cream, vanilla, and cornstarch in a high speed blender. Run a soup cycle to make the sauce.

When serving slices of the cake, drizzle some caramel sauce on each piece (optional).
More Articles and Recipes Your Family Will Love