Jessica was first introduced to chocobananos when she was 18 and spent three months in Guatemala. After working long, hard days for Habitat for Humanity, we would walk to the local tienda (store) and buy a chocobanano for a whopping 5 cents. I may be getting old now but that was a steal of a deal even back then!
My first time trying to replicate the chocobanano experience was a disaster. I learned the hard way that you need to freeze the bananas before dipping into the chocolate – it just doesn't stick otherwise!
I've now mastered the technique and I'm so happy that my kids have also fallen in love with this summertime treat – this is their favourite snack! In general, I'm not usually hungry when they have a mid-afternoon snack but I will almost always join them in a chocobanano when they're on the menu. 
At What Age Can I Serve Chocobananos To My Child?
Since chocolate chips have some added sugar, we'd recommend waiting until your child is at least two years old before offering them a chocobanano.
It also requires some teeth to bite through the frozen banana!
Suggested Reading: Babies, Sweets, and Sugar: the complete 411
My Child is Allergic to Peanut Butter, What Are Other Options?
The traditional chocobanano doesn't have peanut butter so you can definitely either skip the peanut butter layer and go straight to the chocolate layer or use an alternative such as:
Wow butter (soy-based)
Almond butter (tree nut) 
We personally love the addition of nut and seed butters because they make this snack a little more satiating (ie: filling)! 
What Toppings Can I Add to Chocobananos?
This part is so fun! The options are seemingly endless. You can either choose a topping just for fun or you can be intentional about it if there are certain nutrients you feel your child could use more of in their life (ahem, I'm looking at you, high fibre cereal!). 
High fiber cereal
Crispy rice cereal
Other breakfast cereals, crushed (such as corn flakes or cheerios)
Chopped peanuts or other nuts (ages 4+)
Freeze-dried fruit
Flaked coconut
Sprinkles
Hemp hearts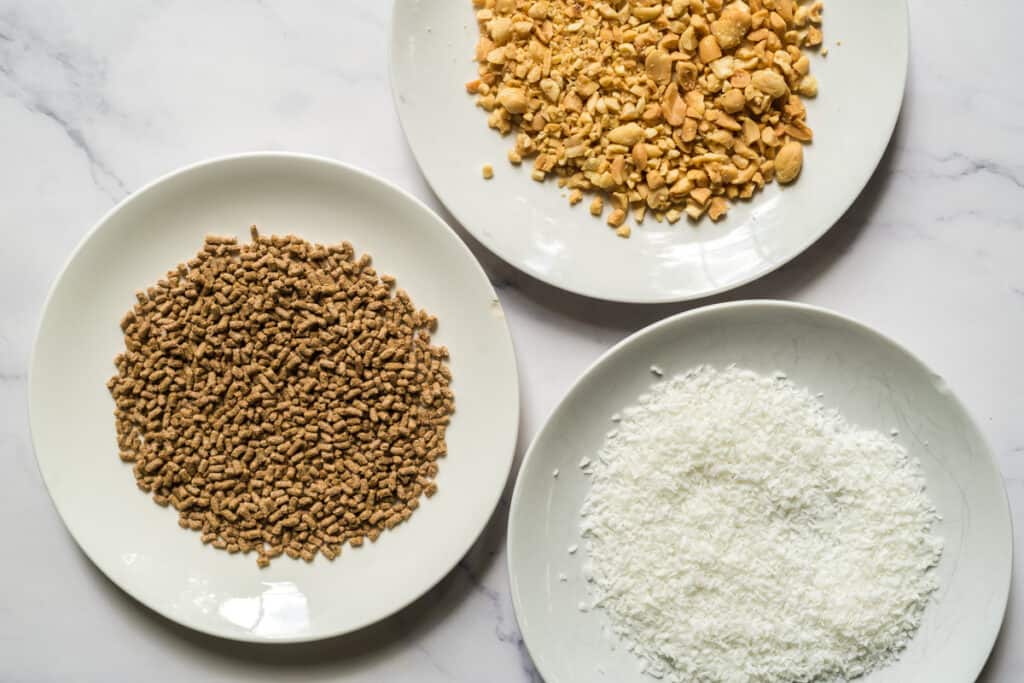 Do I serve this as part of a meal, snack, or dessert?
To be honest, you can serve it as you wish. We firmly believe that in order to expand a child's variety it can be helpful to expand their idea of what they eat, when. So, go on and serve this for breakfast alongside other foods like perhaps an omelet! 
Or, you can serve these banana pops as a snack since they are fairly well balanced! In my home, Jessica, we love these as a snack option on hot prairie days. 
Finally, if you're a family that enjoys dessert you are more than welcome to serve it as so. We generally recommend serving dessert with meals but since these might melt, be sure to let your kids know that it's on the menu so they can practice intuitive eating and use self-regulation skills! It's not a comfortable feeling when you're sooooo full from dinner, that by the time dessert rolls around, you're just not in the mood or you overeat. It's just not a fun feeling!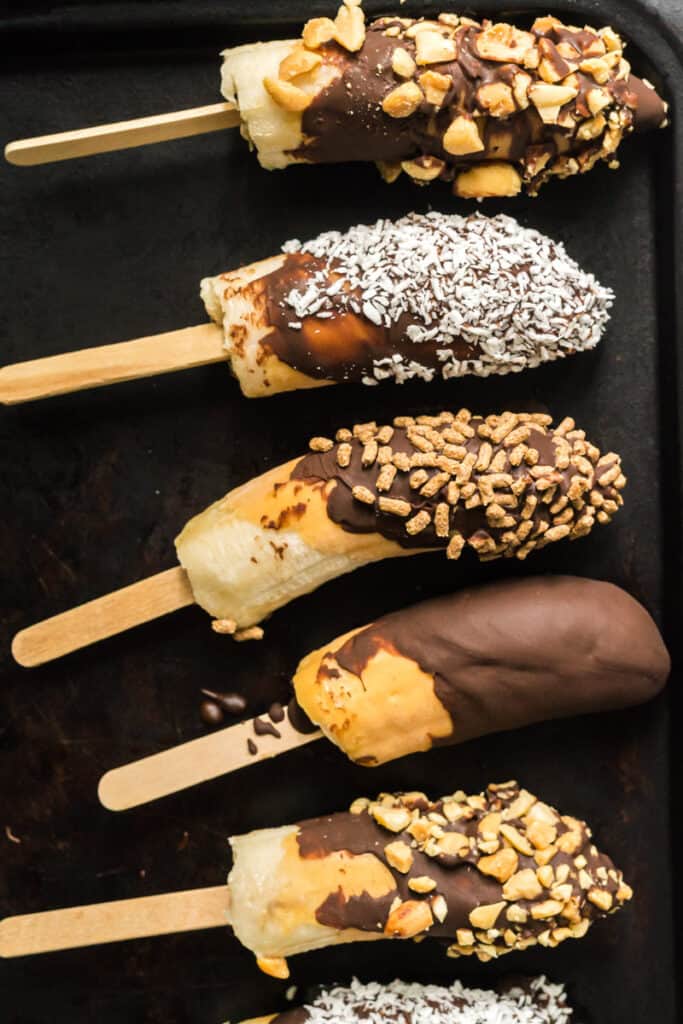 Why is This a Nourishing Choice for My Child?
Fruit (and vegetables) are an important source of vitamins, minerals and fibre which we all know support optimal health for children and adults. It's generally recommended that children consume 5 servings of fruits and vegetables, and simply put, chocolate banana pops is one VERY kid-friendly way to do it! 
If you've made it this far into parenting, you've probably already learned that bananas are incredibly versatile. Often used in smoothies, baking (such as these Coconut Baby Banana Muffins), pancakes or on their own, this is just another way to enjoy the fruit. 
From a nutrition standpoint–we love this part–bananas are a great source of potassium, vitamin B6, fibre and carbohydrates! Coupled with the nut butter and chocolate which offer fat, protein and a hint of sweetness, this snack checks off what we like to see in a balanced snack! 
Children love stories! By reading books featuring different foods, your child may get excited about trying something a character they've gotten to know enjoys eating. In the book "Curious George and the Ice Cream Surprise", Curious George ends up discovering the joy of chocobananos!
What Can My Kids Help With When Making Chocobananos?
Apart from our genuine love for chocolate banana pops, we also have great appreciation for how this recipe brings us together with our kids, in the kitchen. Depending on your child's age and capabilities, they can help you with the following tasks:
Peel the bananas
Slice the bananas in half
Help you stir the peanut butter or chocolate mixture once melted
Insert popsicle sticks into the banana
Dip bananas into peanut butter and the chocolate mixture
Roll the banana into the topping
So basically, if you make this enough with your kiddo there's a good chance they can roll with the recipe by age 8, he he. We can't promise there won't be mess, such is life!
Suggested reading: Together In the Kitchen
Summers are so short, especially where we live in the heart of the prairies. We hope you make some fun memories with your kids and these chocobananas over the next few weeks. If you try this recipe be sure to let us know what you think, and you can always tag us on Instagram @happyhealthyeaters – we'd love to see how you and little ones style up your bananas. 
Here's to a memorable summer with food that's tasty and nourishing. 
Chocobananos
Frozen bananas are coated with peanut butter, chocolate, and dipped in your favourite topping. Customize to your children's preferences!
Print
Pin
Rate
Ingredients
3-4

ripe but not over-ripe (no brown spots!) bananas

8

popsicle sticks

1

tbsp

coconut oil

1/4

cup

smooth peanut butter

1

tbsp

coconut oil

1/2

cup

chocolate chips
Toppings (optional)
High fiber cereal

Crispy rice cereal

Other breakfast cereals

crushed (such as corn flakes or cheerios)

Chopped peanuts or other nuts

ages 4+

Freeze-dried fruit

Flaked coconut

Sprinkles

Hemp hearts
Instructions
Line a baking sheet with wax or parchment paper.

Cut the bananas into 3-4 inch sections. Usually about 2 or 3 pieces per banana.

Insert a popsicle stick half way into each banana and place on the baking sheet.

Freeze bananas for at least 12 hours.

Once the bananas are frozen, make your dipping sauces.

To make the peanut butter sauce, place the peanut butter and coconut oil in a mug. Microwave for 30-60 seconds (until all melted).

To dip, hold the mug on a slant so that the sauce covers the inside side of the mug. Dip a banana in and turn to coat. Allow the excess to drip off. Hold the banana in the air until the glossiness starts to disappear. Place back on the baking sheet and repeat with the others.

Place the tray of peanut butter dipped bananas back in the freezer.

To make the chocolate sauce, place the chocolate chips and coconut oil in a mug. Microwave on low, stirring every 30 seconds, until the chocolate is all melted.

To dip, hold the mug on a slant so that the sauce covers the inside side of the mug. Dip a banana in and turn to coat. Allow the excess to drip off. Hold the banana in the air until the glossiness starts to disappear. Place back on baking sheet and repeat with the others.

If you want toppings, roll the bananas in your desired topping immediately after dipping, before hardening.
More Recipes Your Family Will Love
Chia Berry Sauce Recipe
Enjoy this healthy, no-sugar added, fiber rich fruit sauce with your baby and the rest of the family. Harnessing chia seeds' amazing thickening power, it's beyond easy to prepare and incredibly tasty.
Check out this recipe

Lemon Poppy Seed Pancakes
Aside from being tasty, these lemon ricotta pancakes are fluffy and jam packed with nutrition for all the little (& big) eaters in your family.
Check out this recipe
Strawberry Frozen Yogurt Bark
Your baby will have fun exploring and enjoying the cold sensation of this fruity frozen yogurt bark!
Check out this recipe