Seriously, who doesn't love a good pancake? We have yet to meet someone who doesn't. And around here we enjoy pancakes anytime of the day! 
Every family typically has a "go to" pancake recipe, and in this blog post we're asking you to shake that up in lieu of this one, Lemon Ricotta Pancakes. Why? Not just because they are super duper delicious, but also because most children are accepting of pancakes. They are very kid-friendly. As a result, it's a great way to get them exposed to different variations of the "same thing". 
Catch our drift? 
You're expanding your child's intake within an already accepted food. This is a great tip for toddlers and children who present as "picky eaters". So, let's get into it!
Why Are Pancakes A Good Food Option For Toddlers?
Pancakes are great for toddlers because they've likely already enjoyed some form of a pancake as a baby! They're also incredibly approachable and the texture is just right – soft! 
As dietitian moms we love that pancakes include egg as an ingredient. Since they're a top priority allergen in Canada and USA this means that your child gets repeated exposure to eggs and can continue to maintain a tolerance to them. This is particularly helpful if you have a child who is learning to like other more "eggy" forms of egg such as scrambled eggs, omelets and frittatas.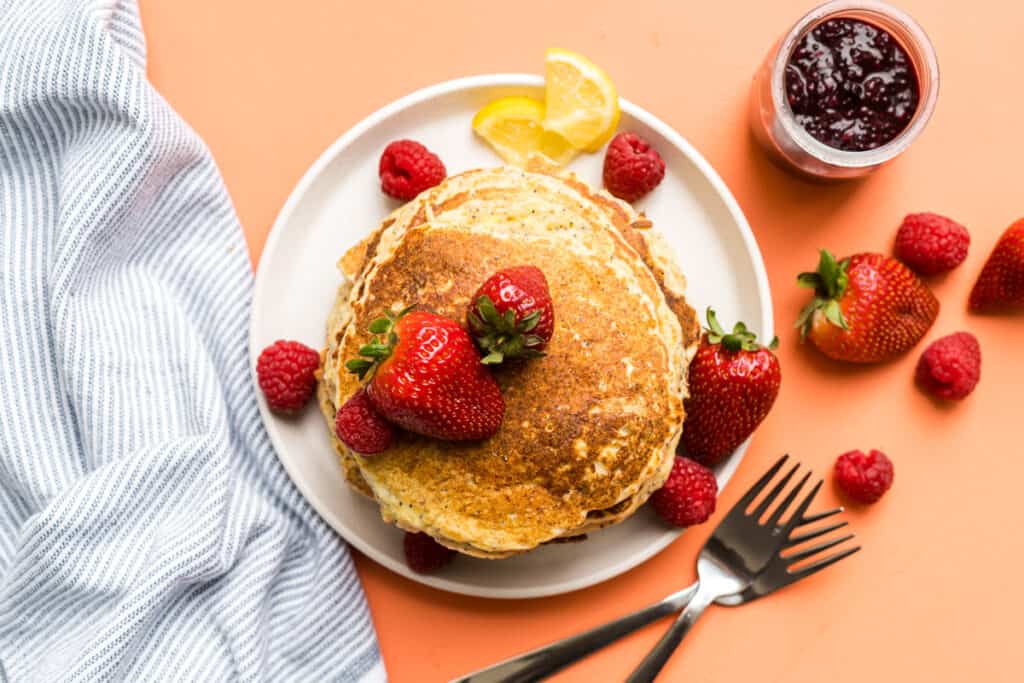 What is Ricotta Cheese and Why is it Included in the Recipe?
Ricotta is a type of soft cheese with its origins in Italy. It can be made from the milk of cows, sheep, goats and water buffalo. You likely won't have trouble finding ricotta if you live in North America or Italy. Since it's a soft cheese, you'll find it comes sold in a plastic type of container near the other specialty cheeses at the grocery store. Making ricotta is also an incredibly easy, practically hands-off DIY project! 
Ricotta cheese has a fluffy, thick texture but it is mild in taste, which is why we love it in this pancake recipe. With four boys between us to feed, we also love that it includes calcium, vitamin D, B vitamins, and protein! 
When Can I Start Serving This Recipe to My Toddler?
You can start offering this recipe right at the passage of toddlerhood, age one. We realize the recipe contains a small amount of added sugar, but truly, it's modest so it's nothing to worry about. And, to be honest, if your baby is capable of this texture, you can even start earlier. See below.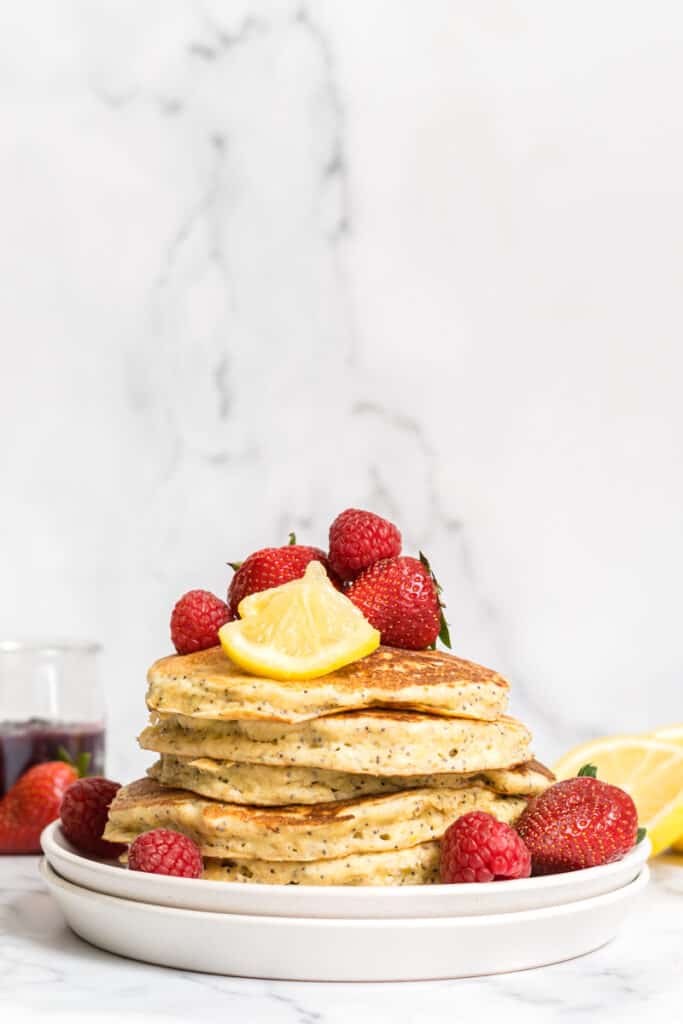 Can I Serve it to My Baby?
Yes, you can! We recommend omitting the sugar for your baby since it's recommended that babies have limited added sugar. Since this recipe contains ricotta which is dairy and eggs, you'll want to make sure that your baby tolerates these allergens. Now, we wouldn't say that this is something you should serve your baby on the regular since the dairy will compete with the iron for absorption, but you're welcome to serve it alongside other iron rich foods like a little baby omelet! 
How Do I Serve Lemon Ricotta Pancakes to My Child?
When it comes to serving up these pancakes, how you serve them is really going to depend on your child's capability. 
For a baby at 9 months, we suggest slicing into bite size squares. You can let them pick it up with their fingers, or you can pre-load it with a fork so your little one can get accustomed to using utensils. 
For a toddler, bite size squares is also appropriate but some toddlers may prefer strips or whole pancakes that they can pick up and take a bite into. Remember, as an adult you can model biting into your own pancake too! 
You can serve these pancakes along with our chia berry sauce recipe which is also so simple to make. Or, with your favorite syrup for an older toddler, if you're comfortable with that. 
To balance out this recipe you can also serve it alongside:
Whipped cream 
Nut butter 
Bacon (toddler) 
Breakfast sausage
Tofu scramble
Fresh fruit
Can I Only Serve it For Breakfast?
Absolutely not! It can be so helpful for busy families to schedule in "breakfast-for-dinner" 1 to 2 weeknights on a regular basis. Why? Because most children love breakfast foods and they are easy to prepare. That's what we call a feeding win-win!  When children have greater success at dinner time, their level of competency (the feeling of "I can do this") increases and parents feel more relaxed and it's an overall more enjoyable experience. 
Traditions are great, don't get us wrong. But the notion that you have to eat XYZ food at XYZ time isn't realistic for modern families. Adopting a flexible approach to eating, like breakfast for dinner, recognizes that all foods can fit into a balanced diet regardless of the time of day. 
Are Poppy Seeds Safe For My Baby/Toddler?
Yes, no need to worry on this front. The poppy seeds you purchase at common grocery stores are considered safe for consumption at all life stages. From a safety/choking perspective, make sure your toddler or baby doesn't eat a spoonful of poppy seeds – that will be tricky to swallow.  But adding them to pancakes is completely safe since they're so tiny. Storing them away from your child is our best tip. 
Help! My Child Has Allergies.
The good news is that this recipe can easily be adapted to suit many dietary restrictions:
Milk: use plant-based alternative
Ricotta: use vegan ricotta or make your own nut-based ricotta cheese, or, swap out for dairy-free yogurt
Eggs: sorry, but this recipe won't work without the eggs
Wheat: use gluten-free flour 
Can I Freeze the Lemon Ricotta Pancakes?
Yes, this recipe is freezer-friendly. We recommend laying pancakes on parchment paper in a single layer, freeze and once frozen you can place into a reusable bag or container. You can also freeze by layering parchment paper between them. Pancakes will keep in a freezer for up to 3 months.
How Do I Store My Leftover Pancakes?
Be sure to cool your pancakes and then store in the refrigerator for up to 3 days. The pancakes can be reheated 
on a griddle over medium-low heat
in the microwave for 15 to 20 seconds
on a pan over the stove top 
popped into the toaster 
or in your oven! 
Let's Make Lemon Ricotta Pancakes!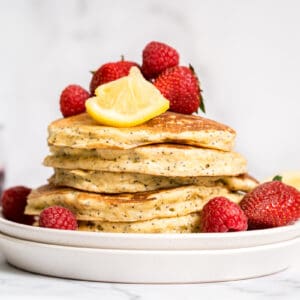 Lemon Poppy Seed Pancakes
Aside from being tasty, these lemon ricotta pancakes are fluffy and jam packed with nutrition for all the little (& big) eaters in your family.
Print
Pin
Rate
Ingredients
4

eggs

separated

2

cups

ricotta

(DIY recipe)

Zest of 1 lemon

Juice of 1 lemon

¼

cup

canola or olive oil

3

tbsp

sugar

1 1/2

cups

flour

1

tbsp

baking powder

1 ½

tsp

salt

2

tbsp

poppy seeds
Instructions
Preheat a griddle or frying pan on medium-low heat.

Begin by beating egg whites until soft peak forms and set aside.

In a large bowl, mix together the egg yolks, ricotta, zest and juice of the lemon, the oil, and the sugar.

In a separate bowl add flour, baking powder, salt, and poppy seeds and mix.

Add the flour mixture to the wet mixture.

Once combined, fold in the egg whites until just mixed (try not to deflate the egg whites).

Lightly grease the griddle or frying pan. Add the pancake batter in 1/3-1/2 cup scoops and gently spread to flatten.

Cook on the first side until the bottom is golden brown. Flip and repeat on the second side.
More Recipes Your Family Will Love
Chia Berry Sauce Recipe
Enjoy this healthy, no-sugar added, fiber rich fruit sauce with your baby and the rest of the family. Harnessing chia seeds' amazing thickening power, it's beyond easy to prepare and incredibly tasty.
Check out this recipe

Strawberry Frozen Yogurt Bark
Your baby will have fun exploring and enjoying the cold sensation of this fruity frozen yogurt bark!
Check out this recipe

Banana Carrot Zucchini Muffins
Banana muffins but loaded with veggies! Great for toddlers and for school lunches.
Check out this recipe