Enjoy this healthy, no-sugar added, fiber rich fruit sauce with your baby and the rest of the family. Harnessing chia seeds' amazing thickening power, it's beyond easy to prepare and incredibly tasty. Learn how to make it in this blog post.
Chia seeds are typically tiny black or white seeds that come from the plant Salvia hispanica L., and its origins are set in Mesoamerica. In the last decade or so, chia seeds have made their way into a global market due to their nutrient profile. They're a great source of fibre, healthy fats, protein, and some minerals like calcium and zinc.
What's unique about chia seeds is that they expand in size around moisture! Incredibly, these tiny seeds can hold nine times their weight in fluid.
You can purchase whole or ground chia seeds, or grind them yourself!
Absolutely, yes. Chia seeds can be offered around 6 months of age when you start solids. It's important to note however that offering your baby dry chia seeds can present a choking risk as they absorb moisture and may clump up. It's best to use chia seeds as an ingredient or lightly dusted over other foods.
When you offer your baby food with chia seeds, don't be alarmed if you find some whole chia seeds in their diaper. Digestion is an adaptation process, over time this will decrease.
We encourage you to start with a small amount of chia seed for your baby and build up over time since it is so fibre rich. Have you ever had too much fibre and gotten a tummy ache? That's what we're trying to prevent.
For those of you who have a baby that struggles with constipation, chia seed can be helpful!
Another way to offer chia seeds to your baby is in a chia seed pudding. We've crafted a baby-friendly chia seed pudding in our e-book Whole Food Recipes for Your Baby.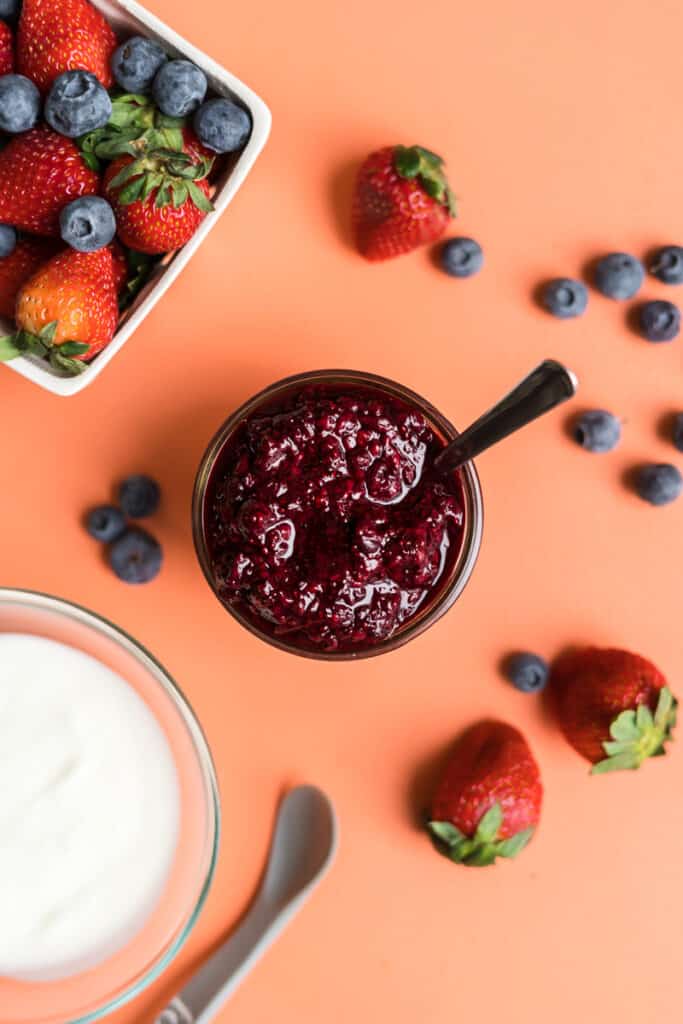 What makes this berry sauce so easy?
All you need to do to make this sauce is heat up some berries until they break down, then stir in some chia seeds. Allow some time for the chia seeds to expand and voila! You have a fibre-rich berry sauce!
How to eat the berry sauce
There are so many applications for this simple recipe. Since we're all about starting solids and feeding babies we think berry sauce would be great served to a baby:
Mixed into iron fortified infant cereal
Whipped into ricotta
As a topping over plain yogurt for flavor
Spread thinly over toast as "jam"
As a dip with pancakes or waffles
Frozen into little pops
Why is there juice in the recipe?
You'll notice that the recipe also includes orange juice, but only a small volume. This was added to reduce the tartness. While we discourage babies from drinking juice, we feel this application isn't harmful because it's a small volume and mixed into a matrix of high fibre fruit! That said, you're welcome to omit the juice!
Nita has been preparing this chia seed berry sauce for years now! In fact, it's on a rotation to prepare every two weeks or so. Her kids are also 3 and 5, and have grown to enjoy it over vanilla ice cream as well!
Why is this a safe texture?  
When you prepare this for your baby you're actually able to adjust and modify the texture as you'd like to suit the specific stage or ability of your baby. This means you can leave the berry sauce chunky or you're able to blend it a little more for a smooth consistency.
In general, this is a very safe texture for your baby because it is not hard or sticky.
What kind of berries can I use?
Our preference is to use a bag of frozen mixed berries that contains blueberry, blackberries, raspberries,  and strawberries but you can use any berry you'd like. Keep in mind that raspberries tend to be a little more on the tart side and this can take some babies by surprise.
Watch how to make this chia berry sauce:
Chia Berry Sauce Recipe
Enjoy this healthy, no-sugar added, fiber rich fruit sauce with your baby and the rest of the family. Harnessing chia seeds' amazing thickening power, it's beyond easy to prepare and incredibly tasty.
Print
Pin
Rate
Ingredients
3

cups

frozen fruit

2

tbsp

orange juice or water

OJ cuts tartness or 1 tbsp maple syrup

2

tbsp

chia seeds

Add 1 tbsp extra if you want it to be more jammy
Instructions
Place frozen fruit into a medium sized pot. Add in orange juice, maple syrup or water.

Turn heat to medium and bring mixture to a gentle simmer. When this happens, use a potato masher to muddle the fruit to your desired consistency.

Remove pot from heat and add in chia seeds. Mix really well so that the chia seeds are evenly dispersed.

Wait about 20 - 25 minutes, you'll notice that the mixture will begin to thicken. If you'd like this to thicken even more for a jammy consistency, add in another 1-2 tbsp chia seeds.

Store in a mason jar or tupperware for 3-4 days, refrigerated.
Notes
Recipe makes approximately 1 1/2 cups berry sauce
More Recipes Your Family Will Love
Creamy Edamame Dip
A creamy and luscious dipmade with whole ingredients and the goodness of edamame beans!
Check out this recipe
We can help you feed your baby.