Is there anything more iconic at the traditional Thanksgiving dinner than the pumpkin pie? Okay, okay, maybe the turkey takes the cake on that one… or the stuffing…. or the mashed potatoes… or the cranberry sauce… alright already it's one big package deal! And, if you're a Thanksgiving dinner fan and want to pass down the love to the next generation I know what you're thinking:
"how old does my baby have to be to eat pumpkin pie?"
Hmmm…. Can you feed a baby a couple bites of pumpkin pie? First, we're going to give you the official recommendations: as much as possible, you want to avoid feeding your baby under two years old any forms of added or free sugar. Babies are growing and developing at a very fast rate and you want to make every bite they ingest as nutritious as possible! Besides that, until they've hit their first birthday, it's incredibly unlikely that they will feel as if they're missing out. They literally do not know what they're missing!
Now for the real life situation. If you really want to give your baby a little bit of pie… or if grandpa ends up feeding a spoonful when you're not looking, there's no cause for alarm! Unless there's a food allergy involved, a little bit of sugar is not harmful.
But, with a little bit of planning ahead… everyone can win!
Plan to make this easy, 4 ingredient, pumpkin "pie" pudding and take it to your next gathering!
Baby gets to try pumpkin "pie"
Your toddler doesn't feel left out
Extended family members can see how adorable your baby is getting all messy with their pudding!
Baby doesn't consume added sugar
Suggested Reading: Babies, Sweets, and Sugar: the complete 411!
What do I need to make this pumpkin pudding?
It really only takes five minutes and four ingredients!
pumpkin puree (not pumpkin pie filling)
banana
pumpkin pie spice
whipping cream or unsweetened whipped coconut cream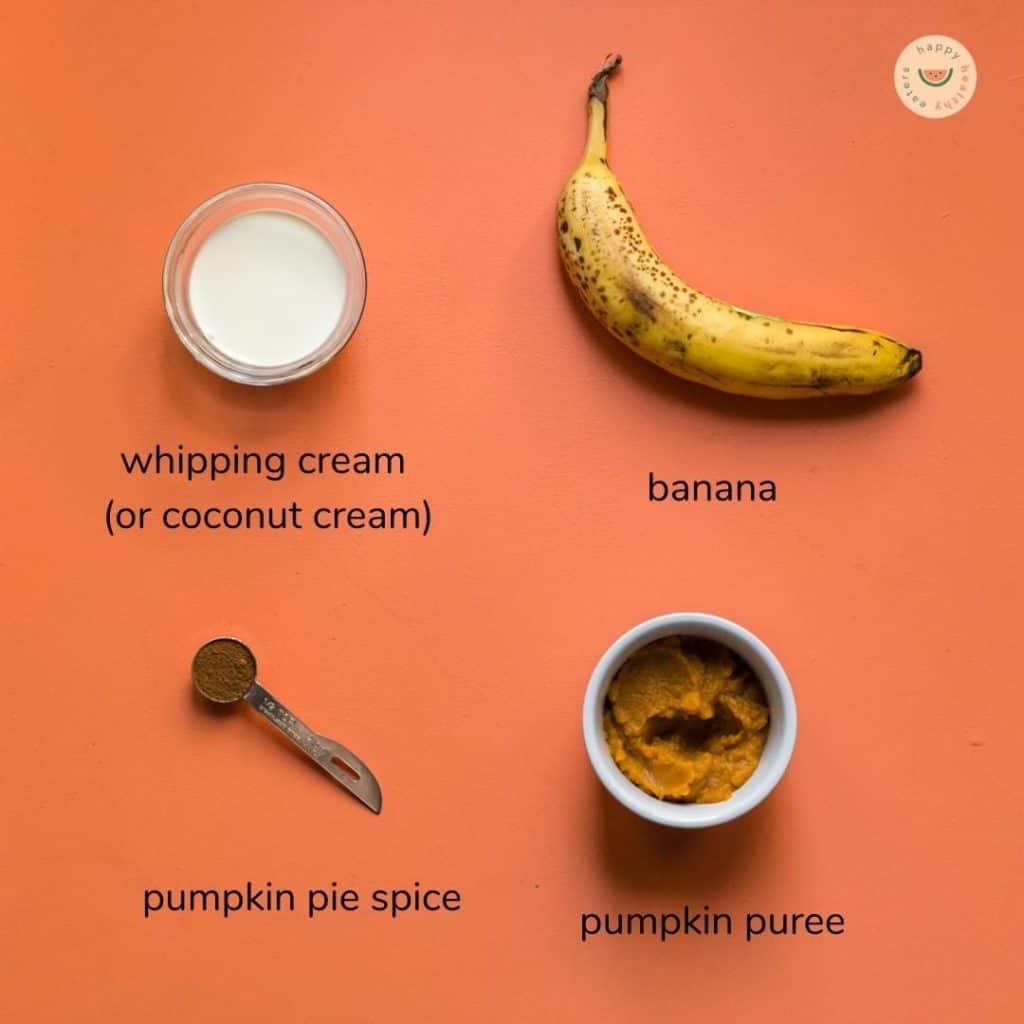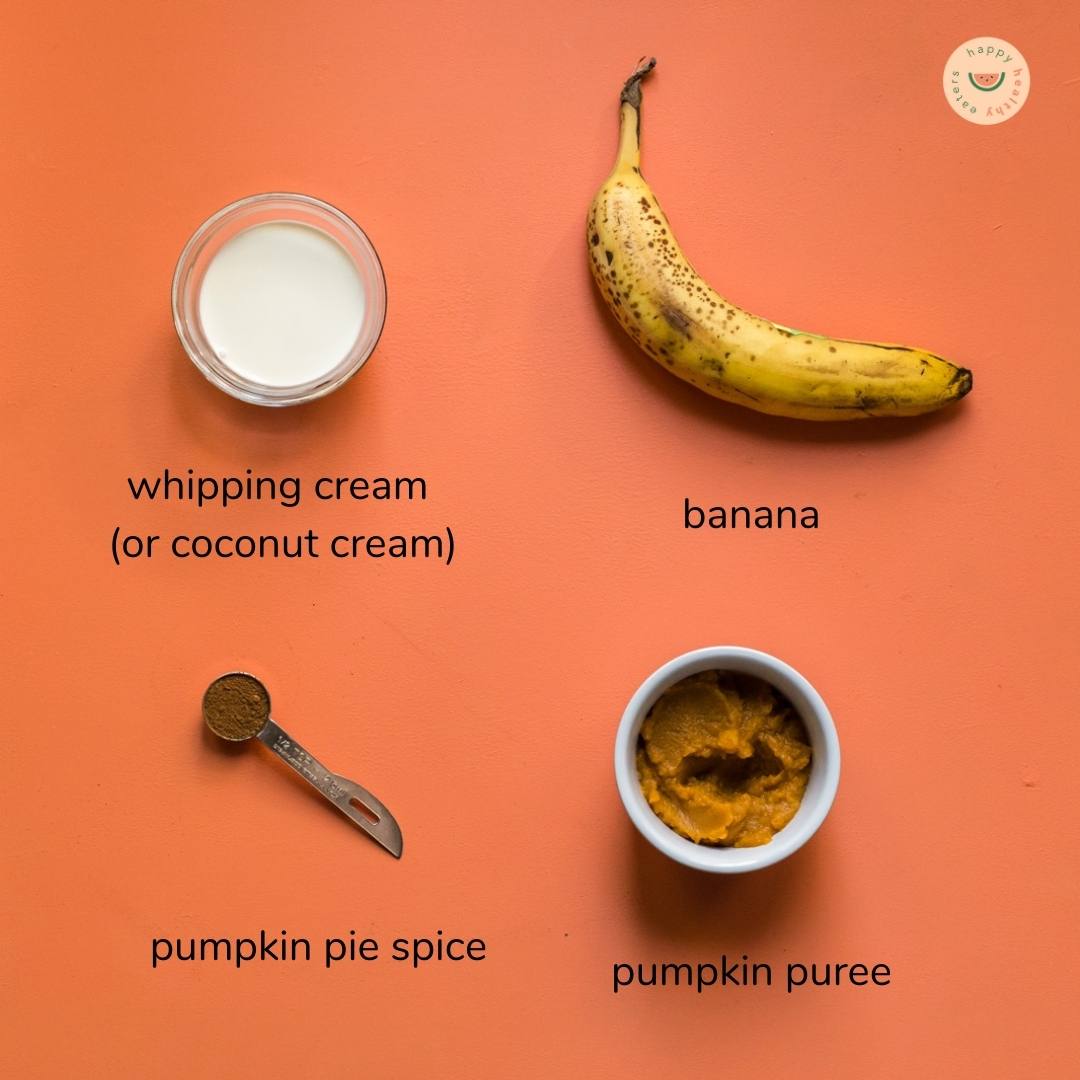 When can I start offering this pumpkin pudding to my baby?
If you make the recipe "as is" with whipping cream, we'd recommend waiting until 9 months to offer it to your baby. If you have a younger baby, you can either skip the whipping cream or use a whipped coconut cream instead.
How do I feed this pumpkin pudding to my baby?
Friends, we've made this one real easy. You are more than welcome to spoon feed it to your baby, especially if that is what has been working for you. A gentle reminder, if your baby is around 8 – 10 months (we know that's a generous range), we do want them to experiment with self-feeding since it is a skill!
You could also pre-load a spoon such as the Ezpz Tiny Spoon, Num Num Gootensil or whatever utensil is working for you, and allow your tiny eater an opportunity to pick up the spoon and bring it to their mouth! You can 100% offer some support by guiding it in the right direction. That hand to mouth coordination can be tricky!
Lastly, let your baby go all in! Yes. You can literally pour the pudding into a bowl and let your baby go to town. It's a wild and sweet mess, but that too is all a part of the sensory process. Just learn from our experience: make sure to protect your floor with some old sheets or a wipeable office chair mat!
If you have older children, they will likely enjoy this recipe too! I offered it up as a dip with animal crackers and it was a big hit!
Pumpkin Pie Pudding
Include your baby in the fun tradition of pumpkin pie with this easy baby friendly recipe!
Print
Pin
Rate
Equipment
Immersion blender or fork and whisk
Ingredients
1/2

cup

pumpkin puree

(not pumpkin pie filling)

1

banana

1/2

tsp

pumpkin pie spice

1/3

cup

whipping cream

*can sub whipped coconut cream to make it dairy free
Instructions
Add the pumpkin puree and banana to a tall measuring glass.

Blend with the immersion blender or use a fork to mash together.

Scrape off most of the mixture from the blender (it's okay to have a little left on)

In a separate measuring cup, use the immersion blender to whip the whipping cream. Alternatively, you can use a whisk to manually whip the cream or use a hand blender.

Gently fold the whipped cream into the pumpkin mixture.

Serve to baby! This can be spoon fed as a puree (to keep that fancy Thanksgiving outfit clean!!) or you can allow baby to go to town with it and use her hands to enjoy the pudding!
Notes
Will keep in the fridge for up to 3 days.
ALLERGEN INFO: this recipe contains one top priority allergen: cow's milk. For the most up-to-date information on introducing your baby to potential allergens, check out the allergy module in our e-course Start Solids Confidently.
More Baby Friendly Recipes Your Baby May Enjoy!