Has your baby already started solid foods? If that's the case, you may want to include more feeding opportunities for your little baby.
While snacks aren't necessary, especially early on, they can definitely be helpful to have on hand for a variety of reasons.
Snacks can…
Help to tide baby over until the next meal or nursing opportunity
Expose your baby to new foods, textures, and tastes
Help your baby meet their iron needs
Encourage your baby to meet their overall nutritional needs for growth and development
The word 'snack' can mean different things to different people! Just to clear the air, when we talk about 'snacks' we're referring to mini-meals, not the type of food served; ie "snacky" food like pre-packaged, convenience foods.
The ideas we've listed below are appropriate for babies 6 months + but keep in mind that if your baby is between 6 – 8 months larger pieces are developmentally appropriate as long as the food itself is soft. At Happy Healthy Eaters we really encourage parents to offer their baby handheld foods and so the majority of our suggestions are in line with this.
In general, when you're preparing a snack for your baby we encourage that you offer 2 to 3 food groups. Of course, you'll work your way up to this goal. Initially, you may want to offer your baby single ingredient snack foods, but, as they have more and more foods added to their repertoire, you can definitely have fun with things.
If your baby is older or has already mastered his pincer grasp, then you can offer smaller pieces of food.
Worried about how to offer your baby handheld foods? We get it…that's why we created the Start Solids Confidently e-course! We guide you through how to offer the appropriate size, shape, and texture for your baby's age and abilities.
Ten Snack Ideas for Babies

You can find all the snack ideas below but if you'd like a convenient printable version that you can tape to the inside of your kitchen cupboard for easy reference, sign up for our newsletter and we'll send the PDF as our gift to you!
The printable also includes more detailed preparation instructions.
Sweet Potato and Almond Butter Puree
Blend together 1 cup of cooked sweet potato mash with, 1 cup of fresh or frozen blueberries and 3-4 tbsp smooth nut or seed butter. Add in a 1/2 tsp cinnamon.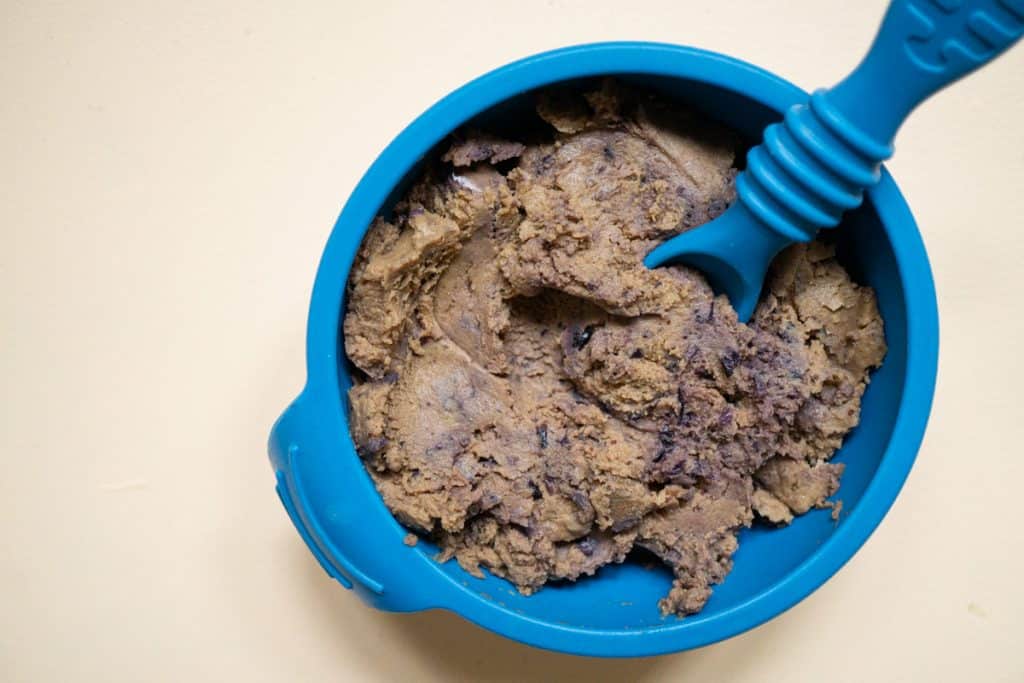 Apple sauce with Chia Seeds
Mix a small portion of applesauce with 1 – 2 tsp chia seeds. Let it sit for about 10 minutes before serving. The apple sauce will thicken and be so fun for your baby to spoon feed.
Wholegrain Pasta with Peas
Offer your baby cooked pasta that has been tossed in olive oil with some green peas. You can serve your baby a pasta shape that you feel they would be most successful with ranging from spaghettini noodles, rotini, or macaroni noodles.
Orange Segments with Cheerios or Puffed Wheat
Slice some oranges, we prefer bigger Navel oranges with a handful of Cheerios or puffed wheat. If your baby is new to Cheerios you can soften them with formula or breastmilk.
Eggs with Toast
Serve baby a hardboiled egg either whole or slice in quarters with some moist toast strips.
Peanut Butter Toast Fingers
Prepare toast fingers for your baby that have a thin layer of butter or margarine (fat, baby, fat) with a thin layer of peanut butter. You can also swap peanut butter for any alternative spread.
Polenta with Tomato Sauce
You can prepare a bowl of polenta and serve it with some dipping sauce like low sodium marinara. Polenta can be prepared in a variety of ways!
Cauliflower Florets with Hummus
Snacks can definitely include veggies. Serve soft cauliflower with baby hummus (we've got a recipe in our ebook for this!).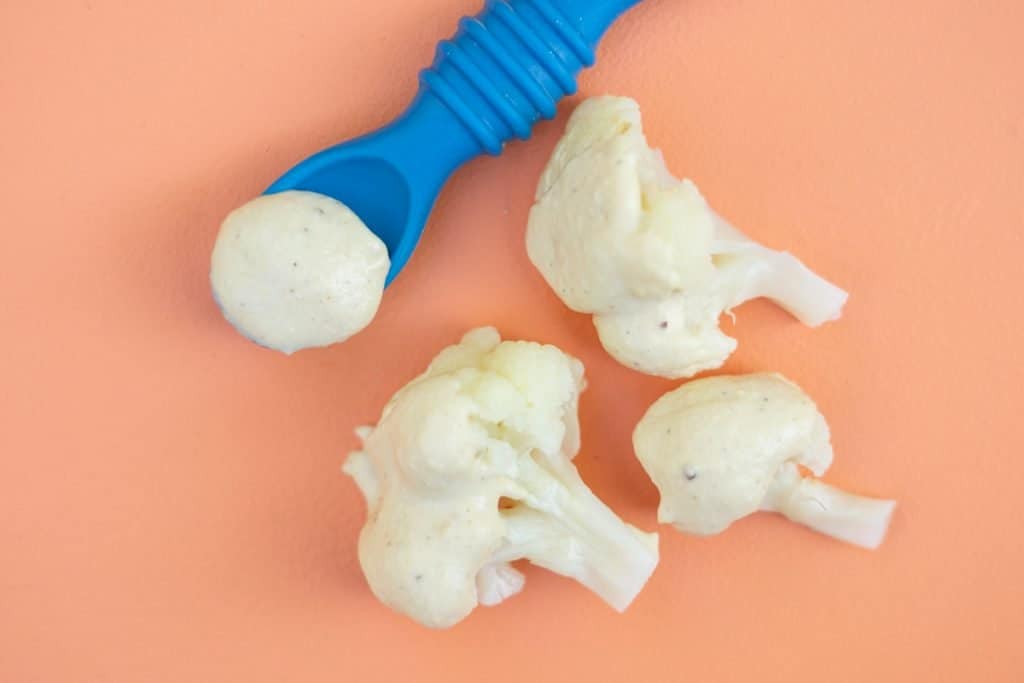 Yogurt with Hemp Hearts and Banana
Slice banana in your preferred way and dip it into hemp hearts for a boost of nutrition. Serve alongside plain, unsweetened yogurt.
Steamed Apple with Pumpkin Seed Butter
Apples can be roasted, steamed, or sautéed in a pinch. Sprinkle with cinnamon and serve with pumpkin seed butter to help your baby stay accustomed to this nut free spread option (great tip for when your child is school age).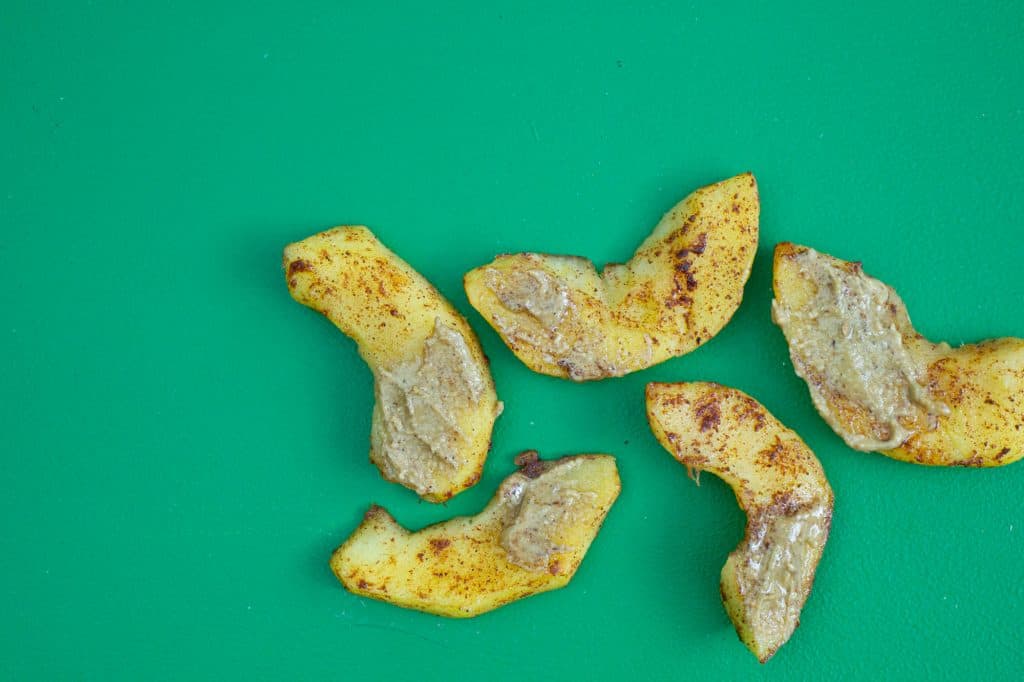 Now, if you haven't heard already…we published an e-book, Whole Food Recipes for Your Baby. Lucky for you, it also includes a handful of recipes that could be offered as a snack to your baby such as:
Broccoli Cheddar Egg Muffins
Garam Masala Lentil Fritters
Sweet Potato and Blueberry Muffins
Pumpkin Baby Biscotti
Our recipe book is included when you purchase the The Essential course package, or you're welcome to purchase it separately. When you do this, you're supporting our humble small-business (which btw launched during covid, #badtiming) so we can continue to keep you informed on realistic evidence based nutrition information!
What snacks does your baby enjoy?