Have you ever purchased a bag of edamame beans with every intention to use them up…
…except they sit in your freezer?
Well, we've got a perfect and tasty reason to pull them out and put them to use! This edamame dip is creamy, lucious and loaded with nutrition for your baby, toddler and everyone else in the family. And, while we're bragging about the recipe we might as well remind you that this recipe contains only 6 ingredients and it's easy on your wallet. 
Okay one more thing, this recipe will work if you're:
Dairy free
Wheat free
Nut free
Egg free 
Vegetarian
Vegan
Edamame (ed-ah-ma-may) beans are whole, immature soybeans. So yes, they are a soy food which is important to note if you or your baby have a soy allergy – this means you'll need to avoid them. In terms of taste, edamame beans are fairly mild.
Where to Find Edamame in the Grocery Store
Where we live in Canada, edamame beans are typically found in the frozen aisle. You'll often find both shelled edamame and edamame in its pod. My children often mistake them for snap peas! They definitely have a similar appearance. 
For the purpose of this edamame dip recipe be sure to purchase shelled edamame so you can save time from having to pop them out yourself!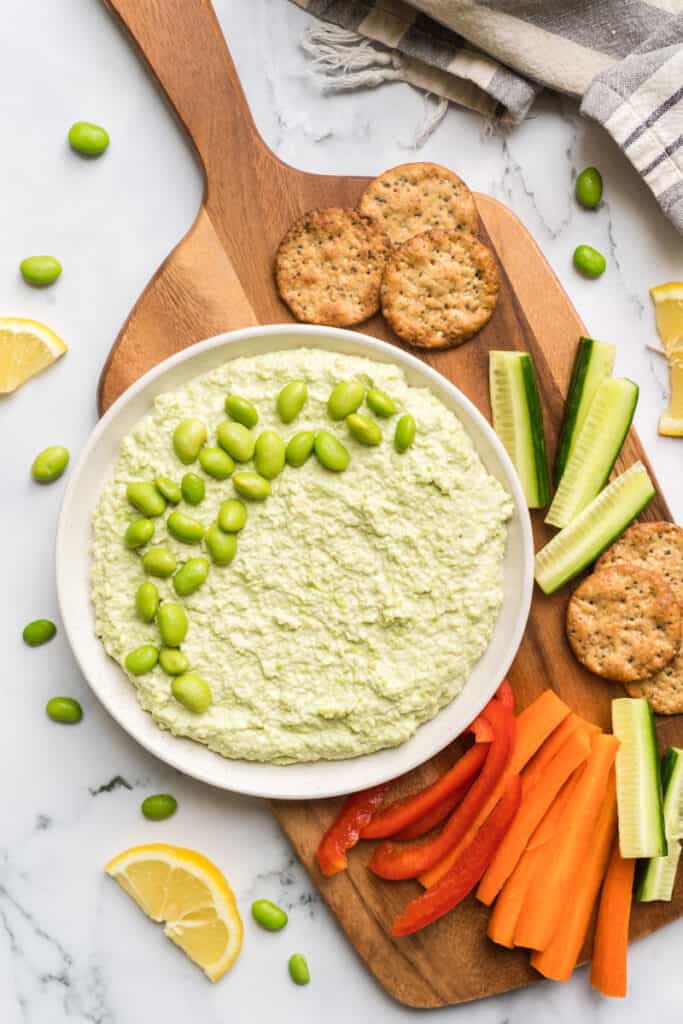 How to Serve This Dip to a Baby
This dip would be a great first food for a baby. We love that this edamame dip can be offered as a puree texture to a baby that is just treading the waters with solids. This also gives you the flexibility to adapt the texture to be smooth and homogenous or lumpy depending on your baby's capabilities. 
You can also serve this dip alongside handheld foods. For example, smear it on some toast strips, spread it on a baby cracker or rusk or let your baby dip their chicken into it for extra flavor. 
Suggested reading: When Can Babies Have Bread?
If you're planning to serve this to your baby, it's important to avoid the salt since babies have a tight limit for sodium intake.
How to Serve This Dip to a Toddler
When serving this edamame dip to a toddler you have a number of options. Here are some ideas to get you started:
Spread it over bread for a sandwich filling
Spread it over tortillas and roll these into pinwheels
Serve alongside vegetables such as carrots or cucumbers
Serve along crackers
And similar to how you might serve it to a baby, let your toddler enjoy it by the spoonful if they're into it. 
What to Serve This Creamy Edamame Dip With
Mmm, everything from veggies to crackers to adding to a wrap with chicken, this dip is mild enough it goes with nearly everything!
How Long Does it Last in The Fridge?
This creamy edamame dip should last about a week in the fridge. If you're serving it to a baby under 12 months, then we'd recommend freezing it in small portions and defrosting as needed. Since babies' immune systems are still developing it's only recommended to keep it in the fridge for 3 days before it's no longer food safe. 
If you just read the fridge storage instructions, you'll already know… yes, it's freezer friendly! Defrost in the microwave or allow to thaw in the fridge for 24 hours. 
What Can I Substitute For…
While we haven't tried any of these substitutes ourselves, we feel it's definitely worth trying to substitute…
Green peas for the edamame (if you can't find them near you)
Seed butter for the tahini (if your baby has a sesame seed allergy)
Other light tasting oils for the olive oil 
Is This Dip Vegan-Friendly?
While the title has the word 'creamy' in it, there isn't actually any creamy in this recipe! The creaminess comes from the edamame beans themselves, making this dip 100% plant based and vegan-friendly.
Check Out How To Make This Edamame Dip:
Creamy Edamame Dip
A creamy and luscious dipmade with whole ingredients and the goodness of edamame beans!
Print
Pin
Rate
Ingredients
2

cups

shelled frozen edamame

defrosted

2

tbsp

tahini

1

garlic clove

¼

cup

olive oil

Juice of ½ lemon

½

tsp

salt

1-3

tbsp

water *optional for thinning
Instructions
Combine all ingredients and blend in a food processor until you get your desired consistency. Add in 1 - 3 tbsp of water to thin if needed. You can keep this texture coarse or thin!
Notes
ALLERGEN NOTE: this recipe contains soy and sesame
More Recipes Your Family Will Love
Black Bean Dip (Instant Pot Instructions)
A versatile black bean dip you can use as a dip for veggies, in quesadillas or even serve to your baby!
Check out this recipe

Chia Berry Sauce Recipe
Enjoy this healthy, no-sugar added, fiber rich fruit sauce with your baby and the rest of the family. Harnessing chia seeds' amazing thickening power, it's beyond easy to prepare and incredibly tasty.
Check out this recipe

Strawberry Frozen Yogurt Bark
Your baby will have fun exploring and enjoying the cold sensation of this fruity frozen yogurt bark!
Check out this recipe