Preparing various snacks and meals for your kids sometimes feels like a full-time job! Right?
Sometimes allllll that food prep can leave you feeling both physically and mentally tired.
As mamas, we love it when meals and snacks can do double duty and be both safe & nutritious for baby AND appealing to an adult! This frozen yogurt strawberry bark does just that.
You can use any fruit to make this, but we used strawberries since they happen to be in season where we live!
Why do we love this snack?
In our practice we tend to advocate that when you're offering your child a snack, to pair two food groups together. In this yogurt fruit bark, there are two main ingredients – fruit which is often fibre rich and full of tiny nutrients and then the yogurt, which is a source of protein and fat – two things that help your kiddo stay full… oh and let's not forget about that calcium they need for their growing bones!
It's also incredibly easy to prepare. You'll need a bit of patience on your side to let the bark freeze, but apart from that, it's a cinch to prepare!
What fruits can I add to my frozen yogurt bark?
Literally…anything! You can use things like sliced banana, kiwi, berries, mango or tiny slices of grapes. Just make sure the fruit is the right size, shape, and texture to match their eating skills.  It's also fun to prepare this with an assortment of fruit.
That part is totally up to you and the ability of your baby. However, most toddlers would be able to safely tolerate small pieces of fruit in this format. For a baby just starting solids, you might want to prepare a fruit purée and drizzle it over the yogurt, but if you've got a pretty skilled and confident eater then you can slice the fruit into bite size pieces. Generally, the fruit will soften as your baby enjoys the bark.
How do I serve yogurt bark to my baby?
This is simple! You want to either break or slice it into a large enough piece for your baby to hold on to. It also shouldn't be SO BIG that they have a hard time. Trust us…you'll figure this part out easily and you can rely on the image below for some support.
This snack will also be a great sensory experience for your baby, so, let the mess go! We know as Dietitians that mess is an important part of the process for children as they learn to eat and like foods.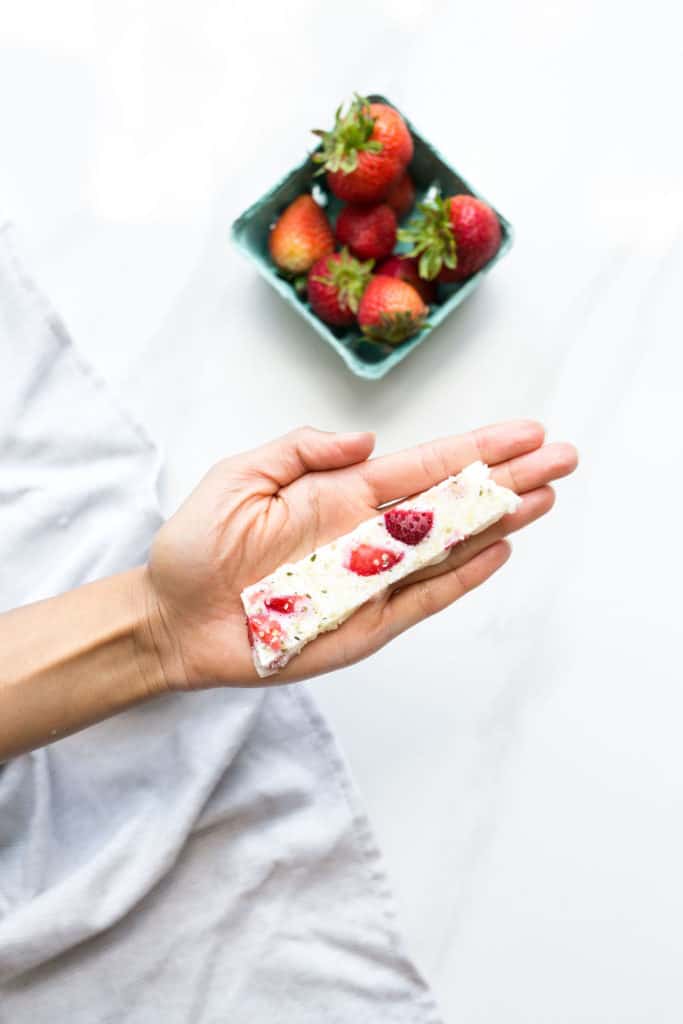 What if my baby has a dairy allergy?
You can substitue a plant-based yogurt or pureed soft tofu for the whole fat, plain yogurt instead. 
WATCH HOW TO MAKE THIS STRAWBERRY FROZEN YOGURT BARK:
Strawberry Frozen Yogurt Bark
Your baby will have fun exploring and enjoying the cold sensation of this fruity frozen yogurt bark!
Print
Pin
Rate
Ingredients
whole fat, plain yogurt

lemon zest

chopped strawberries

hemp hearts (optional)
Instructions
To Make:
Spread some plain high fat yogurt thinly on a baking sheet.

Sprinkle the zest of one lemon on top, this is totally optional btw.

Evenly distribute teeny tiny finely diced strawberries on top of the yogurt; if your baby hasn't experienced diced pieces of strawberry then you're welcome to use pureed strawberries to avoid mixed consistency!

Feel free to add additional "booster" like a sprinkle of hemp hearts or ground flax seed.

Place the baking sheet in the freezer for 2 hours and voila! A fun way for you and your bub to enjoy strawberries.
To Offer to Baby:
Simply break off some "bark" for your baby and let them explore this cold new food thingy. Since you're offering a mixed consistency (the yogurt melts thin + chunks of fruit) it's important to offer this when your baby is pretty confident with their eating skills...around 9-10 months or so! Or, you can puree the fruit and drizzle it over the yogurt!
Want more snack ideas for your baby or toddler?
More Recipes Your Family Will Love
Creamy Edamame Dip
A creamy and luscious dipmade with whole ingredients and the goodness of edamame beans!
Check out this recipe
Lemon Poppy Seed Pancakes
Aside from being tasty, these lemon ricotta pancakes are fluffy and jam packed with nutrition for all the little (& big) eaters in your family.
Check out this recipe