When Nita first tried a version of this recipe, she lived in rural and northern B.C. She was hosting some friends for dinner and wanted to prepare something they'd love – and so it was her first introduction and trial to fruit salsa! 
You'd be surprised, despite living a small remote community she used whatever fruit she had access to and it was de-lish! 
Now, don't be fooled – this isn't your traditional salsa loaded with tomatoes, chili peppers, and onion. It's incredibly fruity with a hint of flavor thanks to lime and mint if you choose to use it. 
Why Do We Love This Recipe?
What's not to love about this recipe? It's very easy to prepare – there are minimal cooking steps which means it's perfect for the summer since no one wants to be indoors. As busy parents ourselves, we intentionally craft recipes that use simple ingredients with items you likely already have at home like: fruit + wraps. 
We also appreciate that kids can help out with this recipe – more on that later in this post! Moreover, since kids are busy bodies that enjoy soaking up the sunshine, you can rest assured that this recipe offers them not only nutrition (things like fibre + vitamins) but it's also hydrating! 
Another reason we appreciate this recipe is because of the strategic mixing of fruit. You know…the kiwi touching the blueberry that's touching the strawberry. This is great to help kids get over the discomfort of food touching! On a similar note, we also think a recipe like this is great for selective eaters – the dip-chip-thing makes it really approachable and if you have a child who is reluctant with fruit they can ease into this recipe by exploring the chips. 
Okay, there is one final reason we adore this recipe. Okay, perhaps two. 
It's really pretty to look at. 10/10 Instagram-Pinterest-Tiktok worthy!
It's perfect for a girls night paired with a white wine spritzer or mocktail or some sort! 
What Fruit Can I Use For My Salsa?
The options are truly endless and it's unlikely we captured it all. But, here are our top suggestions – we recommend selecting at least 2 to 3 at minimum. 
Apple
Blueberries
Cantaloupe 
Dragon fruit
Honeydew
Kiwi
Nectarine 
Peaches
Pineapple
Plum
Pomegranate 
Strawberries
Which Fruits Do You Discourage?
There are some fruits that are inherently not going to be a great choice for this recipe and for good reason. Some of the fruits listed below oxidize really quickly and while this isn't unsafe, it might result in a final product that isn't as appetizing. 
Banana – will result in a mushy end product
Pear, Apple – these will oxidize really fast! 
Watermelon – way too watery
Blackberries, raspberries – messy and may negatively impact the "aesthetic" of the salsa if that matters to you
Oranges – not aesthetically pleasing 
What Vegetables Could I Add?
Adding a vegetable to this recipe is a great way to encourage kids to learn to like veggies. Some children are more likely to enjoy vegetables when paired with a preferred food like cinnamon chips and fruit! Here are some vegetables we suggest-–be sure to dice them very finely:
Jicama
Cucumber 
Cherry tomatoes 
Bell peppers 
Red onion or sweet onion 
Which Tortillas Are Best for My Family - whole wheat or regular?
This recipe specifically calls for wheat based tortillas or wraps, using corn tortillas won't yield the taste and texture you're aiming for. Whether you choose whole wheat or regular is at your discretion. If you have a child who is reluctant to try whole grain products, this might be a gentle way to ease into it since this is covered in cinnamon and they get to dunk them in fruit.
At What Age Can I Offer This to My Children?
Most children can manage this recipe once their molars are in, so at least age 2. If you have a baby or young toddler who isn't quite proficient with their chewing skills, or maybe you haven't tried crunchy-crispy foods, then you can deconstruct the recipe. We're big fans of including everyone as best as possible in eating experiences. For example, your youngster can nibble on the fruit salsa!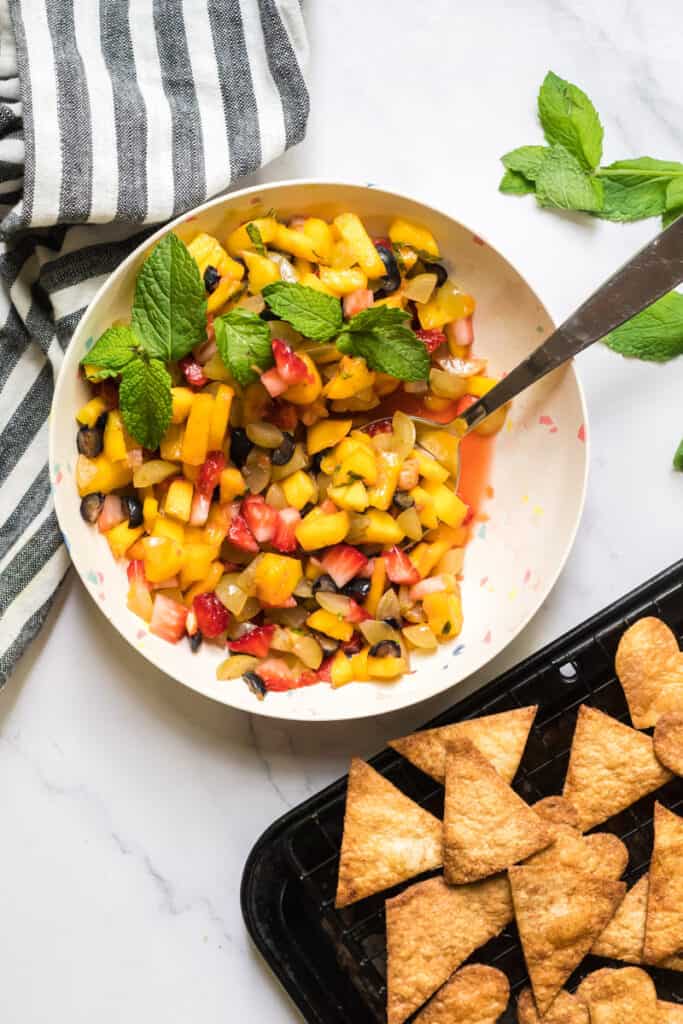 Can My Children Help Me Make These Cinnamon Chips and Fruit Salsa?
Getting children involved in food prep is one of the strategies we recommend for exposing kids to novel foods and generating buy-in from them. They take a sense of pride and ownership when they've helped prepare a recipe and may be more willing to try it!
Here are some things your child can do, starting from toddlerhood:
Pick out the fruit you'll be using in the salsa
Pinch off mint leaves from the garden 
Cut tortillas with scissors or help make shapes with a cookie cutter
Drizzle the butter and sprinkle on the cinnamon-sugar mixture
Shake the bowl to coat the chips
Arrange the chips in a single layer on the pan
Help to cut up the fruit with toddler-friendly knives
Help use the citrus juicer
Stir the fruit salsa
How Can Herbs Support My Picky Eater?
If your child balks at anything leafy green, herbs can be a bit more of a friendly entry point! Herbs have flavour and aren't bitter, unlike a lot of other greens.
Becoming friends with herbs can be done in a step-wise fashion:
This recipe utilizes mint, which is a very approachable flavour for many kids! You can start with showing them mint-flavoured cookies, or candies, or gum (depending on the age and ability of your child), and then explain to them that it was actually a little green plant that flavoured this food! 
Then you can invite your child to smell the mint. 
If they decide to smell the mint. Ask them if the smell reminds them of anything, then you can invite them to take a little nibble.
If they decide to take a little nibble, you can chop it up finely and invite them to add some "sprinkles" to their fruit salsa. 
Can I Use Canned or Frozen Fruit?
We don't recommend using frozen fruit for this recipe. When fruit is frozen, it expands, bursting the cell walls. When the fruit thaws, it becomes mushy. You'll end up with a water, sloshy mess instead of a beautiful salsa!
Canned fruit, on the other hand, would work really well! Be sure to drain the liquid in the can. You could try:
Peaches
Pineapple
Pears
Lychee
Apricots
However you slice it (lol), you will be amazed at how perfect of a pear-ing (can't stop, won't stop) these cinnamon chips and fruit salsa are together!
We hope you have fun making these with your kids!
Watch How to Make This Fruit Salsa & Cinnamon Chips
Fruit Salsa and Cinnamon Chips
This summer fruit salsa is refreshing, nourishing, and served alongside cinnamon chips - making it ultra kid-friendly. Make this all summer long for your kids, or yourself.
Print
Pin
Rate
Ingredients
Cinnamon Chips
4

whole wheat

or regular tortillas

2

tbsp

butter

melted

2

tbsp

brown sugar

1

tsp

cinnamon

1/4

tsp

salt
Fruit salsa
3

cups

of finely chopped seasonal fruit

choose at least 3 different fruit

use what is available to you:

apples, kiwi, strawberries, blueberries, mango, grapes, pineapple or even vegetables such as cucumber, bell peppers or jicama

juice of 1 lime

zest of half lime

optional

1

tbsp

chopped mint

optional
Instructions
Preheat the oven to 350 degrees Fahrenheit.

Cut the tortillas into chip sized shapes and place in a bowl that has a tight lid or a ziplock bag.

Melt the butter and drizzle it on the chips. Close the lid tightly and shake to coat the chips. Tip: this is a great kid friendly task!

Stir together the sugar and cinnamon.

Open the lid of the bowl and sprinkle in about 1/3 of the cinnamon-sugar mixture. Close the lid tightly and shake to coat the chips.

Open the lid and peel apart any chips that are stuck together. Again, sprinkle in about 1/3 of the cinnamon-sugar mixture. Close the lid tightly and shake to coat the chips.

Repeat the step above with remaining cinnamon-sugar mix.

If you have an oven proof cooling rack, place it on top of a baking sheet. Arrange the chips on the sheet and bake for 15-20 minutes, checking every 5 minutes to rotate pans and rearrange the chips to move the outside chips to the middle of the pan and vice versa.

Chips are done when they JUST start to turn golden brown. They will crisp up a bit more as they cool.

While the chips are baking, stir together the salsa ingredients.
Video
Notes
While we're big fans of the cinnamon chips, you could also use store bought pita chips or plantain chips for dipping!
More Recipes Your Family Will Love
Homemade Teething Biscuits
There are a lot of teething crackers in the baby food aisle, but we have a feeling you'll love our recipe because it's made with whole foods and we cleverly use iron fortified infant cereal to make sure your baby gets in a bit of iron! 
Check out this recipe
Papaya Banana Smoothie
A fresh and flavourful smoothie sweetened by whole fruit, suitable for babies 9 months and older!
Check out this recipe

Strawberry Frozen Yogurt Bark
Your baby will have fun exploring and enjoying the cold sensation of this fruity frozen yogurt bark!
Check out this recipe