Easy? Check.
Budget-friendly? Check.
Nutritious? Check.
Baby, toddler, and mom approved? Double-check.
The next time you're looking for quick toddler lunch ideas give our Southwest Pasta Salad a try. It checks all our boxes as dietitians and moms, and we think it will check yours too.
At What Age Can I Serve This to my Child?
A great thing about this easy lunch for toddlers is you can serve it to children (and adults) of all ages – including babies as young as 6 months starting solids. One lunch for the whole family? Yes please! When serving this dish to younger babies just be sure to make the following modifications:
Squish the black beans and remove the corn to decrease the choking risk 
Leave out the honey and salt in the dressing- see this blog post for more on babies and sugar and this one for more on making family meals baby-friendly.
If your baby doesn't have their pincer grasp yet:

try preloading the squished beans onto a spoon or fork if they are ready for this
slice peppers in finger-sized strips and cook till they're soft and squishable
slice tomatoes into wedges
skip offering the small pasta – go for larger pieces of pasta, our favorite is rotini.
Why Is This Pasta Salad a Nutritious Option for My Child?
For starters, this pasta salad includes all four building blocks we look for in healthy lunch recipes for toddlers:
Fat (Canola oil) – Supports your little one's growing brain, PLUS helps keep them fuller longer.
Fiber (Black beans, corn, peppers, tomatoes, whole wheat pasta) – Stabilizes blood sugars, prevents constipation, and helps with fullness too.
Protein (Black beans) – Needed for growth and development daily. Both animal and plant-based sources are great.
Produce (Tomatoes, peppers) – Vitamins, minerals, and antioxidants galore! The more color and variety here the better.
If you've been here a while you'll know we are big believers in offering our kids flavorful food from the start, and toddlerhood is no exception. That's why we also included a few flavor boosters (helloooo cumin, lime juice, garlic, and cilantro) to entice your little one's taste buds. But, if you know there are flavors your child is not into yet feel free to leave it out!
What Can I Do For a Gluten Free Option?
You can easily make this toddler lunch recipe gluten free by swapping the pasta for a gluten free version. We're into chickpea pasta as it has more iron, fiber, and protein than others, but rice, quinoa, and corn-based pasta will also do the trick.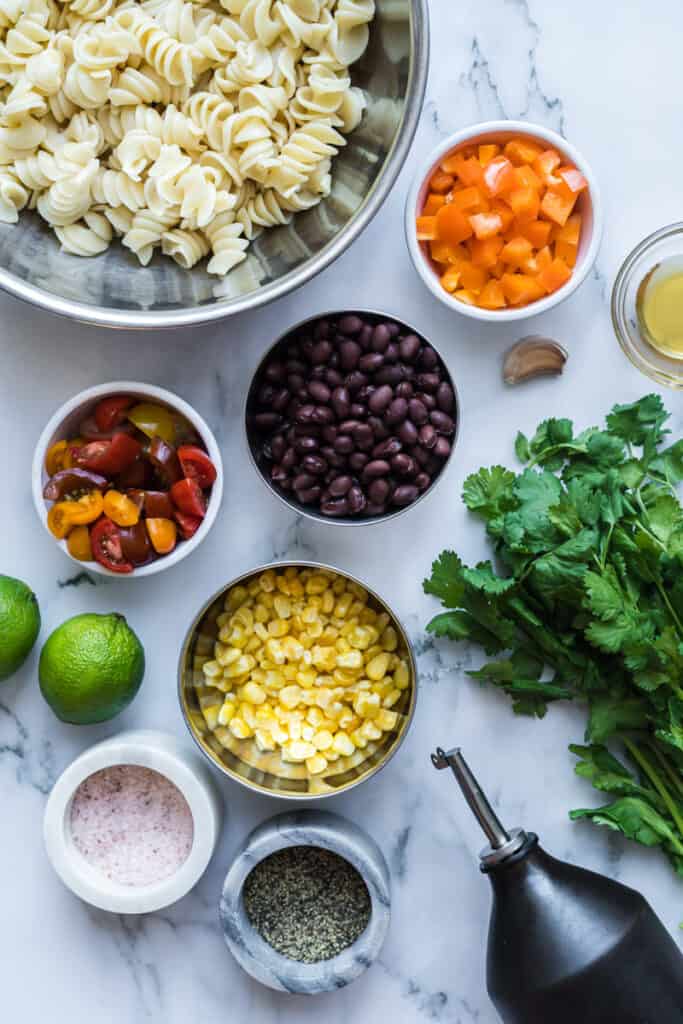 What Type of Pasta Should I Buy? What is the Best Shape?
While it's good to be aware that various pastas offer different nutrient profiles (i.e., whole wheat has more fiber and often more protein), the type of pasta you buy is up to you – buy what you like, have access to, and what respects your budget.
In terms of shape, rotini, fusilli, penne, or macaroni will do!
Tips to Help with Picky Eating
1.  We have found including an element of fun at meals can go a long way with our toddlers. Using "fun" pasta shapes like farfalle (bowtie) or rotelli (wagon wheel) is a way to do that without any extra work for you. 
Also, don't be afraid to let your little one play with their pasta. Some fun ways to invite food play would be to play pretend cars with the pasta shapes or make faces on their plate with the salad ingredients. Hands-on food play not only reduces pressure at the table, but also increases the likelihood a food gets eaten.  
2. If this recipe works well for your little crew and you find yourself making it again and again (we sure do!), try mixing it up. We know variety can help prevent picky eating and using different pasta shapes is an easy way to add variety to your toddler's plate.
Use pinto beans instead of black beans.
Try a different pasta shape.
Buy a yellow or orange pepper instead of red (or vice versa).
How Long Can I Store the Pasta Salad?
We're always looking for baby, toddler, and two-year-old lunch ideas that will last us more than one meal and this recipe fits that bill – it lasts well in the fridge for 3 days! 
Because it keeps so well it's also a great option when you're looking for toddler lunch ideas for daycare (along with a good ice pack situation – we like these with this or this one).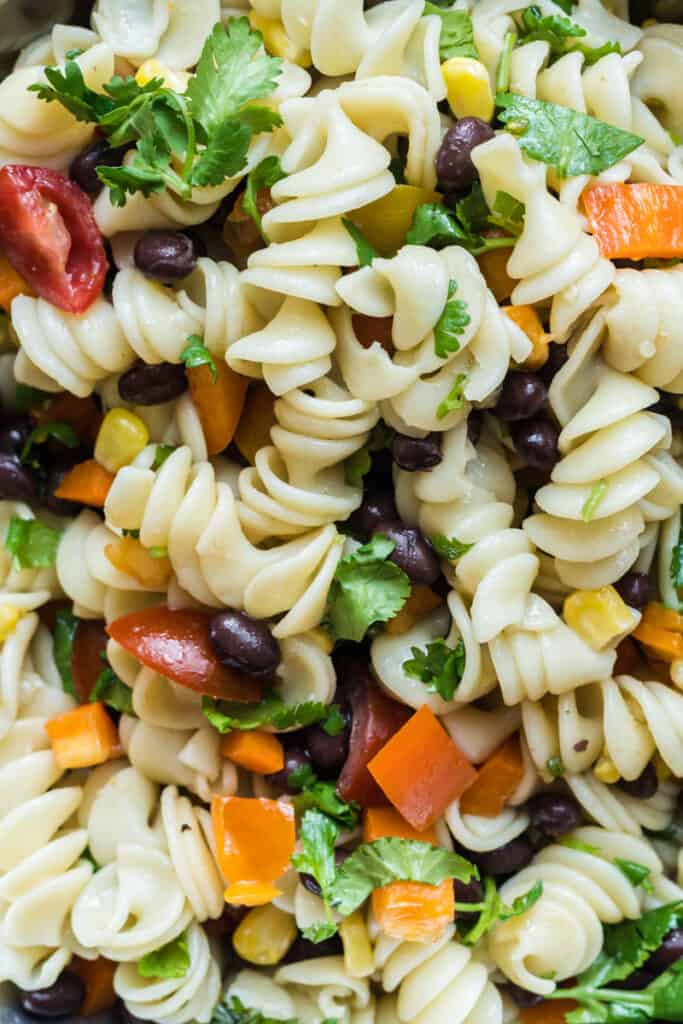 Additional Add-Ins to Make This Pasta Salad Different
This recipe -as written- is yummmmmy (and budget-friendly!) but we're also pretty into these add-ins to switch things up depending on what's in our kitchen:
Shredded chicken
Cheddar or Monterey jack cheese
Avocado (add right before serving)
Red onion
Well, there you have it – a nutritious, budget-friendly, and easy lunch for toddlers. We call that a win-win-win! Give it a try and let us know what you think.
WATCH HOW TO MAKE THIS SOUTHWEST PASTA SALAD:
Southwest Pasta Salad
No need to reheat this veggie-loaded Southwest Pasta Salad, which makes it a great packed lunch idea for your toddler… or yourself!
Print
Pin
Rate
Ingredients
¼

lb

rotini pasta

1

cup

black beans

canned

½

cup

tomatoes

diced

½

cup

red

orange, or yellow pepper, diced

½

cup

corn

canned or frozen * see note

¼

cup

cilantro

chopped
Dressing
3

Tbsp

canola oil

2

Tbsp

lime juice

preferably fresh

½

Tbsp

honey or maple syrup

1

garlic clove

minced

¼ - ½

tsp

cumin

salt and pepper to taste
Instructions
Cook pasta according to the directions of the box.

In a small bowl, whisk together all the dressing ingredients. Set aside.

In a large bowl, combine the remaining ingredients.

Pour the dressing ingredients over the salad. Toss to combine.

Cover and chill for one hour prior to serving.
Notes
Do not use canned cream corn.
More Recipes Your Toddler Will Love
Toddler Friendly Oat Balls
Oatmeal balls are a great option for a quick and simple snack, and they can be easily adapted to meet the needs and preferences of your family.
Check out this recipe
Papaya Banana Smoothie
A fresh and flavourful smoothie sweetened by whole fruit, suitable for babies 9 months and older!
Check out this recipe