A little while ago Nita had an opportunity to share how her mama intuition encouraged her to wait until her baby was 6 months to start solids, despite being told to start at 4 months. Her baby just wasn't ready, and moreover, she really wanted to peruse our Happy Healthy Eaters approach which would allow her baby to practice self-feeding from the start. This meant that we would focus on age appropriate, soft foods are in lieu of only offering purees.
There are a host of reasons why parents prefer this style of feeding over the traditional route. First, more than ever, the millennial parent is busy! Actually, all gen's of parents are busy. This means they may not want to spend time in the kitchen concocting food purees for their baby (especially if there are other children in the family portrait). Other parents want to expose their child to the same foods they are eating at mealtimes, truthfully, they just want to keep it real. Lastly and most important, parents want to (and should) remain responsive in their feeding style, which means if your baby is showing signs of self-feeding, you may not actually have a choice. Enter, Baby Led Weaning.
If you're considering this approach to feeding, you'll need to arm yourself with knowledge about what foods are appropriate for your little one. The overarching recommendation across most health bodies is an emphasis to offer baby iron rich foods such as meat, eggs, lentils, beans, tofu, infant cereals and iron fortified grains like pasta. Just as important is offering carbohydrates to your baby, since that is the preferred energy source for a growing tot. Knowing all of this from outset can be helpful, but, how in the heck do you offer your new eater pasta? Don't fret, we'll break it down.
Still need to feel confident? Consider our Start Solids Confidently e-course. It's the best investment ever.
Step 1: Source a brand of pasta that is enriched with iron or contains iron
In our home and among clients, I recommend choose an iron fortified pasta and something that is whole grain because it includes the added benefit of fibre (yeah, baby constipation is a real thing people). You can tell that it's iron fortified just by looking at the nutrition facts table! You may also want to introduce your baby to colorful pasta like the red and green kinds, just for visual variety!
Another great tip is to source legume-based pasta which is everryyyyywhere lately. You can now find lentil, chickpea or other legume-based pastas at most grocery stores. These are fun because they contain iron and a hefty source of protein. These pastas do tend to be pricey, so if it's not in your budget, don't worry about it!
Step 2: Choose the right type of noodle for your babe's age & development
This is crucial, because we want our baby to do well. Every baby is different, so use this as a general guideline. If your baby is just beginning solids, you will want to "think big". This means you can start with a larger pasta noodle such as lasagna that has been cut into strips, rotini noodles or long fettuccine noodles. This works great for a baby that uses a palmar grasp. Trust me, it's lots of fun and in the beginning, they may not ingest much. That's OK. If you have a more advanced foodie on your hands, try macaroni, fusilli or you can use bow tie pasta, breaking them in half. These smaller pasta noodles work great for a baby who is trying to master their pincer grasp. You'll see your baby attempting this close to 8 – 10 months.
Personally, our FAVORITE noodle is hands down a tie between rotini and fusilli. Why? Because the cute spirals encapsulate the lentil or beef in the marinara we serve alongside. Which means…your baby gets an opportunity to ingest more iron rich foods. #winning
| | |
| --- | --- |
| Age (estimated, go based on your baby's ability) | Type of Pasta |
| 6 months | Spaghetti, spaghettinni, lasagna noodle strips |
| 7 – 9 months | Rotini, fusili, bow tie pasta, penne |
| 9+ months | All off the above cut into smaller pieces but also macaroni noodles, orzo that they can spoon feed themselves, orecchiette |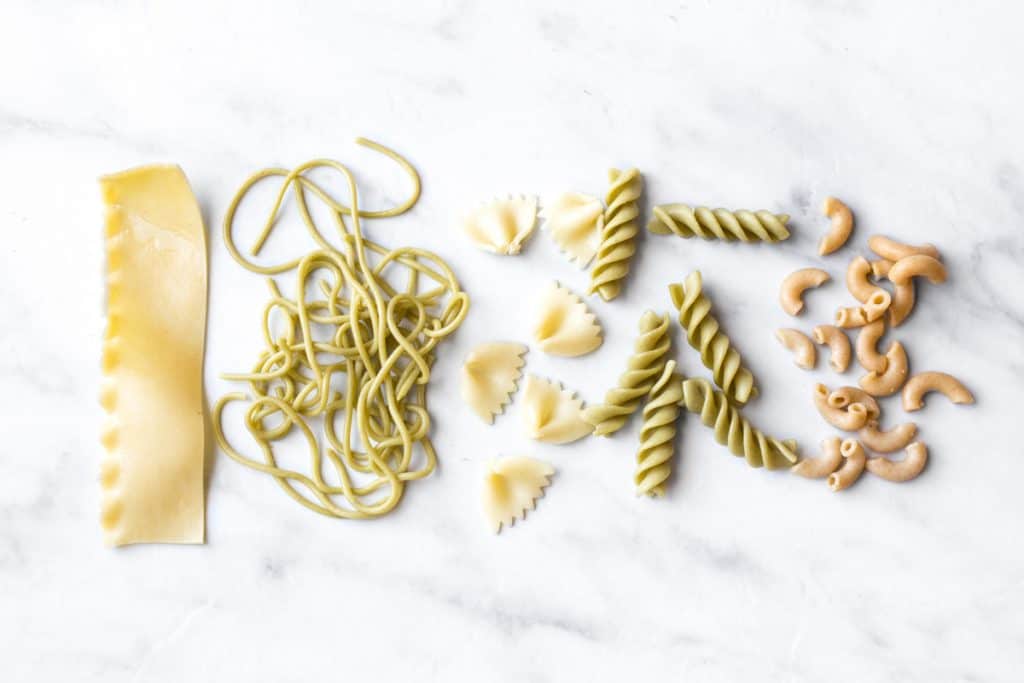 Step 3: Cook the pasta a few minutes longer
This ensures it is extra soft for babies that are learning to chew, choo, choo. You want it be a little bit beyond al dente. Which is to say, cook it longer than you would cook it for yourself!
Step 4: Batch cook 1 cup of pasta at a time
C'mon, we know you're busy, so make the most of your precious time by preparing enough pasta to last your happy healthy eater a few days. A batch of well-oiled pasta will keep in the fridge for about 3 – 4 days.
Step 5: Dress your pasta
When you're ready to serve pasta to your baby, drizzle it with your preferred fat source like a plant-based oil, butter, or cream cheese. And, don't be shy! You're also welcome to serve it with a tomato based marinara which gets you bonus points because the sauce will help to absorb the iron.
Reminder: we discuss healthy fat sources in our e-course!
If you're short on ideas, you can always make our recipe for Creamy Pumpkin Pasta that the entire family can enjoy. Lucky you, we even dissect how to adapt it for your baby!
If pumpkin pasta isn't your thing, you can also serve it with:
Beef marinara
Pesto, hemp hearts, and peas
Creamy white sauce
Step 6: Give yourself (and baby) a round of applause
You're doing the best that you can. Feeding our baby can be met with points of frustration followed by moments of immense joy, it's truly a magical progression and pasta can absolutely be a part of that feeding journey.
How To Feed Your Baby Pasta:
Okay, so we've got the really good stuff covered. But….how do you offer your baby pasta? It might be wise if you follow the Baby Led Weaning model and just place some on your baby's highchair tray table or in a little bowl/plate. Basically, what we're saying is that you might not want to be spoon-feeding this particular food if you don't need to be. Fostering self-feeding allows your baby to get messy and focus on the task at hand:
Pick up pasta
Put pasta in mouth
Munch chew pasta
Swallow
Repeat
As adults, we may be taking each bite for granted. For a baby who is just developing feeding skills, this is COMPLEX stuff. So give your baby some time and multiple opportunities to explore pasta dishes.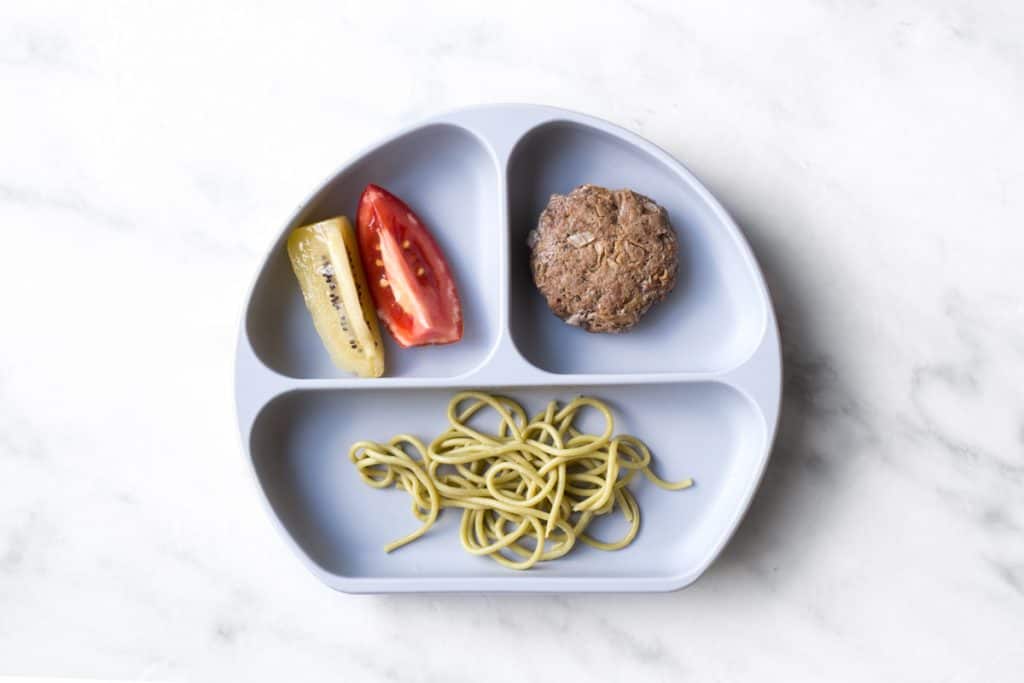 Other things to keep in mind!
Remember when we talked about offering your baby toast? In the same way, look at pasta as a vehicle for your baby to ingest other beneficial foods. Pasta doesn't need to be the only first food in your baby's diet – the emphasis really needs to be on those iron rich foods.
Before we close things off, here are two more pieces of advice:
If you choose to offer your baby egg noodles, keep in mind that, duh! A main ingredient is eggs which is a top priority allergen. If you haven't tested egg yet, you'll want to keep that on your radar. Egg noodles are fantastic!


If your baby enjoys pasta – try to also branch out and offer other noodles like soba noodles, rice noodles, or legume-based pasta! This not only increases your babe's exposure to a variety of foods but it also teaches your baby that there are many foods that are kinda-sorta-similar, but also kinda-sorta-different. Naw mean?
Take it from us, we've got four boys between the ages of 1 and 7. Pasta. Is. Life.
If you have questions about ANYTHING related to feeding baby, pasta, or have a fun story to share, drop a comment below! Otherwise, get cooking!