You don't need to make separate food for your baby! Here's an example of how you can make a chicken curry dish for the whole family with a couple adaptations for your baby.
Step One:
Get the recipe for Slow Cooker Chicken Curry here from Lexi's Clean Kitchen.
Step Two:
Follow these adaptations to make them baby friendly!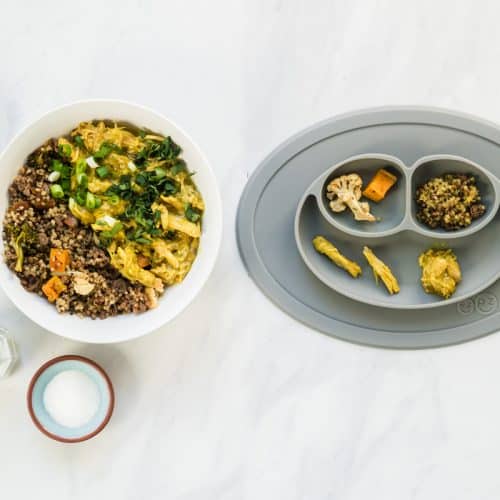 Baby Friendly Slow Cooker Curry Chicken
A mild curry recipe, perfect for introducing your baby to more spices!
Print
Pin
Rate
Instructions
Dice the onions finely instead of slicing them.

Keep the fish sauce, sugar, and salt to the side. Otherwise make the recipe as stated. Once the chicken is cooked/shredded, remove a small amount for baby. Then stir in the fish sauce, sugar, and salt for the bulk of the dish for the rest of the family.

Save the green onions and cilantro to top the family's dishes OR chop them super super fine and stir into baby's dish.
Notes
ALLERGEN INFO: this recipe contains two top priority allergens: fish and sesame. For the most up-to-date information on introducing your baby to potential allergens, check out the allergy module in our e-course Start Solids Confidently.
Want to know how to make any recipe baby friendly?
Click here for our 6 point checklist to turn your family's favourite meals into meals your baby can eat WITH you!
And here are some other baby friendly recipes:
If content like this is up your alley you might also enjoy other recipes like: