Whether you're nursing or not, you're likely in need of a snack to help fuel those busy days that include raising children. You're in luck, we've tested about 6 different variations of this recipe to bring you the best. lactation. boobie. post partum. what-every-you-wanna-call-it cookie. We hope you enjoy it!
Before we dive into this recipe and enter into a bit of learning, we want to make a point of clarification.
There is no magical cookie that will drastically increase human milk supply. To optimize breastmilk supply and maintain it, you need to ensure the breast is being properly stimulated to get the milk-making hormones flowing, the milk is being transferred out, and that this happens frequently.
While many "wellness" folks might lead you to believe there is a magical oral solution, we really want you to know that if you're struggling, seek support from an IBCLC (lactation consultant) in your area. Having a baby latched well or using pumping techniques effectively will serve you better than any cookie.
What is the difference between a galactagogue and lactogenic food?
This gets a little science-y. We're going to cover some rather fancy terms like:
Galactagogue

L

actogenic

Prolactin, a hormone

Oxytocin, a hormone
A galactagogue refers to any substance that influences the brain to release your milk making hormone known as prolactin and/or oxytocin which is your milk let down hormone.
Some examples of substances that are galactogenic include a number of herbals such as fenugreek and blessed thistle. There are also medications with off-label uses for inducing lactation, such as domperidone.
Here's the kicker: the effect of prolactin on milk production is LARGELY seen during the first 6 weeks after birth. Hormones are needed to build-up your milk-making capacity. After this point, milk production is largely driven by supply and demand. The more the breast/chest is drained, the more milk will be made. 
Moving forward, if something is sought out to be lactogenic, it means it is "capable of inducing milk secretion". You might hear or see people using galactagogues and lactogenic foods interchangeably, but they are slightly different.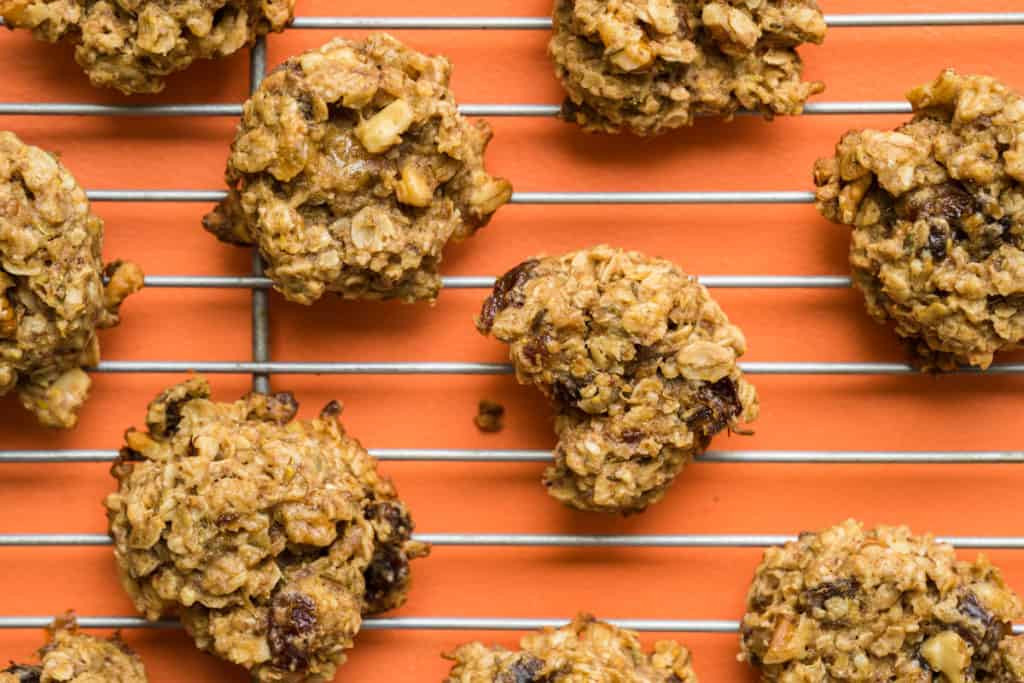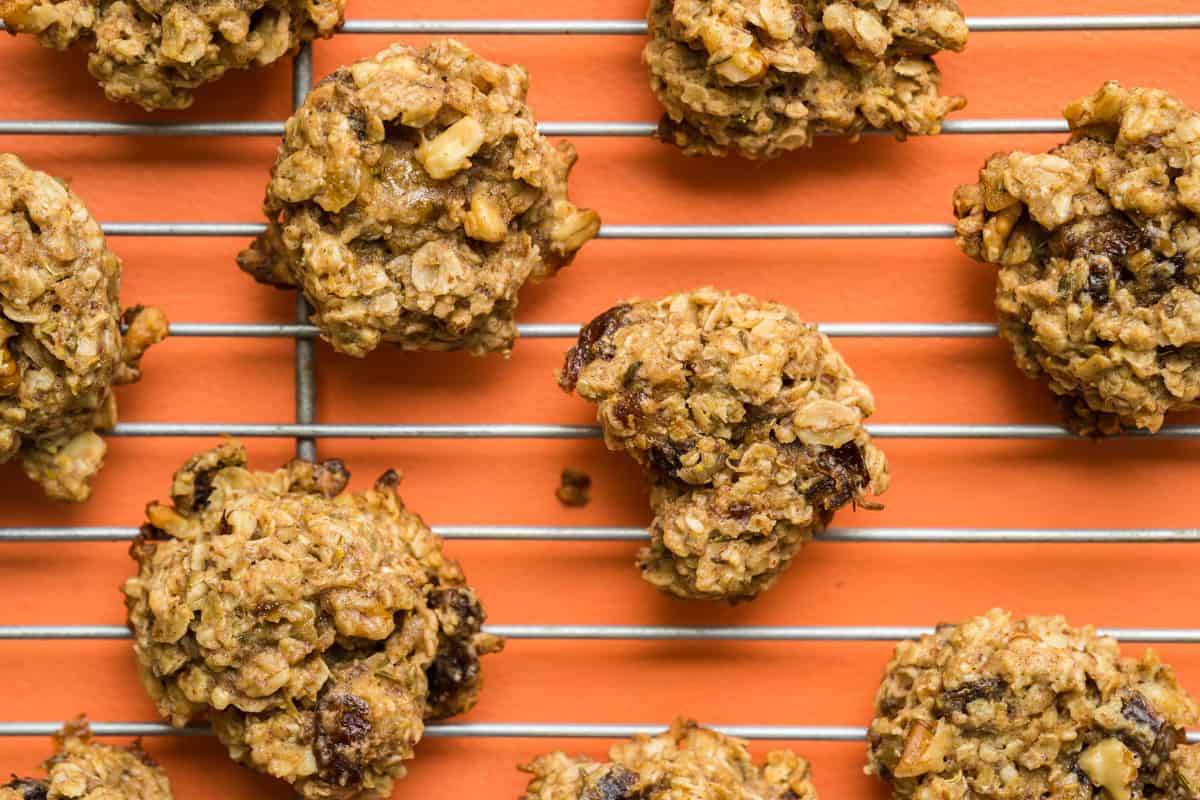 Will these lactation cookies increase my breast milk supply?
Short answer: maybe, a little.
Long answer:
One of the challenges in the world of perinatal science is a lack of peer-reviewed and evidence based research, especially around the topic of galactagogues and lactogenic aids. Because herbs can also pose a potential risk to pregnant and lactating folks and the fetus/baby, we just don't know how much help a particular herb or food for that matter is going to be. To add to this complexity, each human will metabolize food differently!
That being said, around the world there are sacred and traditional practices of using foods or herbs to enhance milk production and secretion. It's important to hold space for these anecdotes because this is what will encourage further research and for many parents, it's a beautiful way to stay connected to community culture.
For example, when I (Nita) came home with my first son, my mom prepared panjiri for me which included a ton of herbs like fennel, ajwain, ginger, and flaxseed. I appreciated this and it was magical to know that the lineage of women before me did the same. Despite this, I felt like my body prepared JUST enough milk for my son and I required the support of a prescription medication too.
What the little research we do have does tell us is that these herbs and foods may, in conjunction with a well balanced diet and effective milk removal, increase milk supply. The volume or percent of increase is really variable. 
We share our full breastfeeding stories in these posts!
Which boobie biscuit ingredients support milk supply?
When we set out to develop this cookie, we knew we wanted there to be some specific ingredients that are touted as supporting milk production. If you're curious about what those are, let's learn.
 While there isn't any robust evidence regarding oats and milk supply…anecdotally, oatmeal does seem to work for some nursing parents. It's thought that the beta-glucan (a type of fibre) is the active ingredient. Beta-glucan is also found in barley, which is one of the reasons some cultures include beer in their postpartum foods! In any case, oats are extremely budget friendly, nutritious, and easy to use in baking like these cookies, muffins, as a hot cereal or even as an addition to smoothies.
We intentionally used quick oats due their smaller size which allow the cookie to hold up a little better.
 Since flax seeds have estrogen-mimicking properties, it is thought that they can help nursing moms make more breastmilk. Estrogen stimulates the development of milk ducts.We also appreciate that flax is a rich source of fibre and fat!
Our recipe calls for two types of ginger, you can call us extra if you want, but trust us, it was a good idea. Candied ginger for chunks of flavor and sweetness. And of course, some freshly shredded ginger. Ginger may shorten the time it takes for your milk "to come in." In scienc-y terms, this is referred to as lactogenesis II, and is the time of transition from newborn colostrum to full milk production. Moral of the story? If you're pregnant, bake these cookies in preparation for labour and eat them during your first week postpartum.
Among many cultures, in particular in parts of Asia, dates are used to enhance milk production because they can increase prolactin levels. So, that makes it a galactagogue! Another bonus is that dates offer up fibre and a sweet taste. We love biting into chunks of dates in this cookie.
 Walnuts are particularly high in omega-3 fatty acids, which are not only great for nursing parents but will also benefit the nursing baby. Bonus points for the protein which can help you feel full for longer.
As a fun fact, we tried a few other nut and seed options, and while they were delicious nonetheless, the addition of walnuts was the best!
   Fennel, like flaxseed, may have estrogen-like properties, which may be why it's known to help promote the milk ejection reflex. You'll be using dried fennel seeds in this recipe.   
We started off with ½  tsp of fennel seeds, then 2 tsp and then 3 tsp. If you love the taste of fennel which is slightly licorice-y, then stick to the full 1 tablespoon or more! If you're leery of fennel, keep it to 1 – 2 tsp.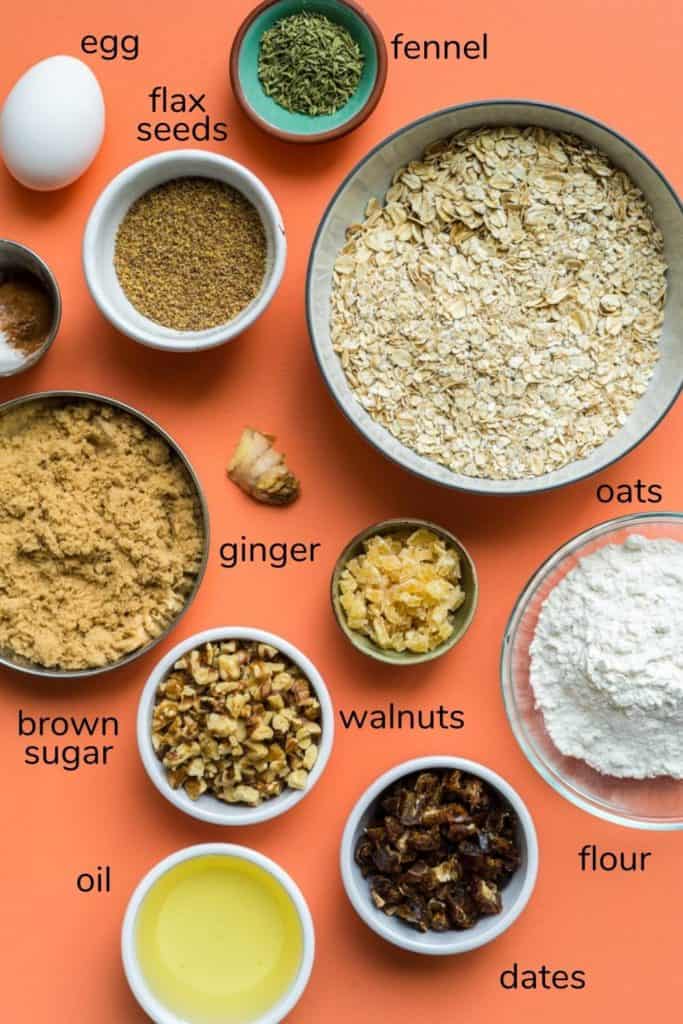 These cookies are for anyone who enjoys cookies.
In Nita's family, her dad has been eating them along with her husband too. And in Jessica's home, everyone's enjoying a nibble but she's definitely been eating on average 3 a day, and then there's that one time she practically ate them for supper.
Again, we want to reiterate that while the ingredients used in this cookie recipe are seen as being supportive of human milk supply, whether you're offering your baby formula, breastmilk or both, you'll love having another cookie recipe on hand!
A few other tips about the lactation cookies
What we love most about this recipe is that it's extremely flexible and you can adapt it to suit what you've already got at home or your preferences.
 

If you have a nut allergy, you can replace the walnuts with pumpkin seeds or hemp hearts

 

If you are an egg-free family or want to make these vegan-friendly, swap with a flax egg (see video below for how to make one!)

 

Do you find the taste of fennel overpowering? Use a little less!

 

If canola oil isn't the type of fat you use at home, olive oil or melted coconut will work just fine

 

Store the cookies in an airtight container on your countertop. You can also freeze the cookies and pull a few out at a time  
Are these lactation cookies affordable?
The cookies and cookie mixes you can buy online are not exactly what we would call afforadable. Obviously the convenience of pre-made is a bonus when you're figuring out life with a newborn. Which is why, if you're reading this while you're still pregnant, we'd recommend using that nest power to make a freezer stash of these lactation cookies! That way you'll have them at your fingertips when you're in the trenches of figuring out the rhythm of feeding a newborn baby. 
Now, turning to some of the other lactation cookie recipes we've seen… they contain ingredients that are…. how shall we put it: a little bougee? A little obscure? 
We aimed to make these cookies with ingredients that are not only affordable but that you can easily find at most grocery stores. 
We calculated the cost of making these cookies (in 2022) and a full batch is merely $7!
That comes out to 29 cents a cookie.
We want you to save your money and spend it on good lactation support, if there isn't government funded help available to you!
Watch how to make these boobie biscuits!
Okay, so…the moment you've all been waiting. Happy Healthy Eaters' version of the best boobie biscuit ever. You're welcome!
Equipment
cookie scoop

1 1/2 tbsp size
Ingredients
2

cups

quick oats

¾

cup

flour

½

cup

chopped walnuts

3

tbsp

ground flax seed

1

tbsp

fennel seeds

1

teaspoon

baking powder

1

teaspoon

cinnamon

½

teaspoon

salt

1

egg

½

cup

+ 2 tbsp canola or olive oil

¾

cup

brown sugar

1

teaspoon

vanilla extract

½

cup

chopped dates

¼

cup

chopped candied ginger

2

tablespoons

grated fresh ginger
Instructions
Begin by preheating oven to 350°F (180°C).

Line a cookie sheet with parchment paper and set aside.

In a medium bowl, mix the quick oats, flour, walnuts, fennel seeds, baking powder, cinnamon and salt. Set aside.

In a large mixing bowl, whisk the egg, oil, brown sugar, ground flax seed, and vanilla extract until nice and smooth.

Whisk in the chopped dates, candied ginger, and grated fresh ginger.

Add the dry ingredients into the bowel of wet ingredients and stir until just combined.

Using a 1 1/2 tbsp cookie scoop (see note below recipe), scoop and drop cookie dough onto cookie sheet about 2 inches apart.

Make sure to press each cookie down with a fork or the back of the cookie scoop.

Bake for about 10-12 minutes.

Remove from oven and let cool on sheet for 5 minutes.

Then transfer to a wire rack to cool further then enjoy!
Useful Tools for this Lactation Cookies Recipe
You can definitely use a regular old spoon and drop the cookies onto your baking sheet. But we really love the ease and uniformity of having a cookie scoop. We find the 11/2 tbsp size to be the perfect cookie size! If you're in the market for one, we're fans of this OXO cookie scoop.
A huge shoutout to University of Manitoba human nutritional sciences practicum student, Caitlynn Danchuk, for her tremendous work in contributing her research and recipe development skills to this article!